If you're new here, you may want to subscribe to my RSS feed. Thanks for visiting!
So the last few weeks I've said I have been struggling, but this week I did it. I worked out 4 out of the 5 weekdays. In spite of my husband getting sick and the million other things going on, I forced myself (yes each day I did have to force it) to work out. It was tough the first day after not working out in over a week. Not as bad as the very first time I started doing this, but I was definitely more winded, but it got much better. I really still despise doing these workouts. I don't think I'll ever like it, but I am proud of myself for pushing through. Usually when I stop, I don't go back to it.
How was your week this week? Grab my button below and then link up with me to tell me all about it. Even if you did nothing share it so I can encourage you to get back on that horse. Tell me what goals you'd like to achieve. Remember, we didn't put on the weight overnight. It's going to take time to take it off, but with hard work we can do this, I know we can!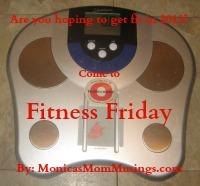 <div align="center"><a href="http://monicasmommusings.com" title="Monica's Mom Musings" target="_blank"><img src="http://i293.photobucket.com/albums/mm50/mom2natnkat/FitnessFriday_zpsd0fd3944.jpg" alt="Monica's Mom Musings" style="border:none;" /></a></div>
Check your BMI…
BMI Checker:

>>
unitUS Metric 
age 
sexmale female 
height ft in
weight lb
height cm
weight kg