If you're new here, you may want to subscribe to my RSS feed. Thanks for visiting!
I'm calling this week a total wash. In all honesty I don't know that next week is going to be much better. I don't want to make excuses either. I worked out officially, once this week. Between blogging deadlines and work deadlines and late school buses and just not feeling well the workouts have been what has gotten cut. And I know I need to make this more of a priority. I need to make myself more of a priority, but it just didn't happen this week. And I'm really bummed about that because next week is Thanksgiving and I'm going to be even more pressed for time. I came home from getting my middle daughter on the bus shortly after 6 this morning and just crashed on the couch. I'm just exhausted and I can't seem to get myself moving. I hate to say it will happen and I really hope I'm not getting myself into an ugly habit here, but what can I do at this point, it just did not happen this week. I will have to fight harder to make it happen next week. That's all I can do.
I really hope your week has been better. Please either comment or grab my button and link up your own Fitness Friday post below. Meanwhile, I'm going to go nurse this headache and just general aches and pains and hope I'm feeling better sooner rather than later.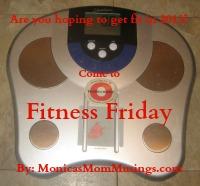 <div align="center"><a href="http://monicasmommusings.com" title="Monica's Mom Musings" target="_blank"><img src="http://i293.photobucket.com/albums/mm50/mom2natnkat/FitnessFriday_zpsd0fd3944.jpg" alt="Monica's Mom Musings" style="border:none;" /></a></div>
Check your BMI…
BMI Checker:

>>
unitUS Metric 
age 
sexmale female 
height ft in
weight lb
height cm
weight kg