If you're new here, you may want to subscribe to my RSS feed. Thanks for visiting!
This week was a much more relaxed week. I was pretty good about getting my workout in. I only missed Wednesday morning because I wasn't feeling well. And Fridays I cut a little short and skipped the toning because my ab muscles were bothering me. A weekend to rest and we should be good to go.
I am feeling a difference now that I'm doing this daily exercise. It's getting easier to do and I'm not getting as winded. I haven't seen much of a difference on the scale or really in my clothes, but I think it's helping. I do feel like it's keeping me energized. So even though I might be getting up early I haven't really been hitting that 2:00 pm wall where I feel like I could sleep for a month. Isn't that funny how exercising makes you less tired?
How about you? How has your week been? Are you sticking to your fitness plan? Seeing any improvements in your day to day life from it? Do you need a kick in the pants? Grab my button and link up your fitness post below. Lets keep encouraging each other to success.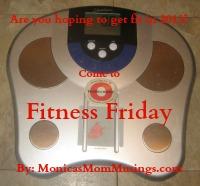 <div align="center"><a href="http://monicasmommusings.com" title="Monica's Mom Musings" target="_blank"><img src="http://i293.photobucket.com/albums/mm50/mom2natnkat/FitnessFriday_zpsd0fd3944.jpg" alt="Monica's Mom Musings" style="border:none;" /></a></div>
Check your BMI…
BMI Checker:

>>
unitUS Metric 
age 
sexmale female 
height ft in
weight lb
height cm
weight kg