If you're new here, you may want to subscribe to my RSS feed. Thanks for visiting!
What a week! So it hasn't been perfect. I got up Monday ready to start a long and crazy week and my middle daughter was not feeling well at all. She decided to stay home from school. I was okay with that, I mean she sounded awful. So since she was heading back to bed I figured I'll just do the same so I skipped working out that day. Honestly, I'm kind of glad I got that hour or so more of shut eye because my day ended up being a day filled with fetching sick kids something and cleaning up throw up. As it turned out all three school kids stayed home from school sick.
Tuesday I got up and checked on my middle daughter. She was unsure about school, but ultimately decided she did feel better she would go. So I did get a workout in that morning. I felt I better as I knew I was starting to come down with what the rest of the kids had and I wasn't sure if I'd be able to do it the rest of the week.
And Wednesday, everyone was back in school that day, but I was pretty bad off so I did skip the workout again. I just couldn't bring myself to do it.
Thursday I was doing better though and I got my oldest to join me as she was starting to feel better. We did a shortened workout both Thursday and Friday though because of this cold we are both having a very hard time breathing. No sense in overdoing it while we're trying to get over our illness. Considering the week though I'd say 3 out of 5 ain't too bad.
I did end up eating more junk this week than I care to admit, but Moe's was giving out free chips and queso on Thursday. So I treated the kids and enjoyed it myself. Might have made whatever working out we did moot, but it was very good.
I'm hoping to be back full swing in this next week.
So how was your week? Did you have any hurdles you had to overcome? Were you on target for the week? Are you beginning to see results? Grab my button and link up at the bottom to tell me how you're doing at achieving your fitness goals.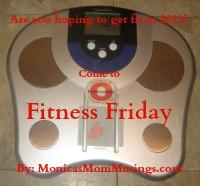 <div align="center"><a href="http://monicasmommusings.com" title="Monica's Mom Musings" target="_blank"><img src="http://i293.photobucket.com/albums/mm50/mom2natnkat/FitnessFriday_zpsd0fd3944.jpg" alt="Monica's Mom Musings" style="border:none;" /></a></div>
Check your BMI…
BMI Checker:

>>
unitUS Metric 
age 
sexmale female 
height ft in
weight lb
height cm
weight kg