If you're new here, you may want to subscribe to my RSS feed. Thanks for visiting!
Life sure is funny. At any given point in my life I can say I did not like my weight and yet I can always look back at a time in my life where I would like to get back to. I know, it's just poor body image. I've dealt with it my whole life. I'm watching my young daughters deal with it. I'm not big on blaming society for every single thing, but I think it can take some blame. And I can take some blame for why my girls might not have as healthy of a body image as I'd like. It's really a battle that just repeats itself over and over.
But recently I have been thinking about my yo yo weight over the years. I don't expect to have the body I had in high school ever again and even my body in my early 20′s might not be completely obtainable. But last month when we were in the process of moving I did come across some old pictures of me a year after my middle daughter was born. So I was 24 and at her first birthday probably the skinniest I had ever been. I don't think I ever realized how skinny I was back then. But looking at those pictures I couldn't help but think here I am 2 1/2 years post partum from my youngest and I'm not even close to there. Or maybe I am and again I just don't see it and won't see it until another 10 years from now.
But really, truthfully I am not there because I know I'm not in the pant size I was wearing then. I'm still stuck at a size 12 and I would like to get back down to the size 9 that I was back then. So I began thinking, what was different then? Well, when my oldest began going to school 3 days a week after my middle daughter was born I would come home, put the baby down for a nap, and work out. I was very consistent with it too.
Even though I started this Fitness Friday thing back in January I haven't really made any big changes in my life. I have been more careful about what I eat, sure. I have tried a few toning exercises along the way here and there, but never found a time to consistently work on me.
Well, I realized I have all of this time in the morning while the little ones are asleep and my husband is asleep and my middle daughter is on the bus on the way to school and I'm sitting here doing nothing. I had dreamed of going back to sleep after dropping her off, but I just wasn't tired. I can't get to too much housework because aside from my teenager I'm the only one up.
So last week I thought to myself when I was in high school I used to do aerobic exercise every morning with my mom. I want to do that with my daughter. So I went out and found the one Denise Austin DVD I could find and I bought it. And all week long like clockwork my 14 year old and I have been doing these 7 minute workouts. There's aerobics and then toning that we do with a warm up and a cool down. There are different levels of the aerobics and different toning things, where we could focus on just one area or the whole body. So far we've been doing the whole body toning. Perhaps we'll change it up a bit next week, we will see, but this has been great.
And each day despite it being the same workout it has made me feel vastly different. On Monday I was very winded and kept coughing. Honestly, I'm wondering if I have the same exercise induced asthma that my middle daughter has. Or maybe I'm just out of shape. The next day I didn't have the same problem. I was a little sore, but all in all not bad. Wednesday was rough. When we finished I had sweat pouring off of me and not even an hour later my abs were burning. Thursday seemed easier though.  And today wasn't too bad, but each day I end up with more and more sore muscles.  So it must be working.
I will take the weekends off from this, but so far I am feeling a difference. Not seeing a difference just yet of course, but I know it's working because my muscles are telling me so. My lungs seem to be handling it better the more often I do this too.
It has only been five days, but it's really the most consistent I have been with more than just 5 minutes set aside to do a few push ups and tricep dips.
It doesn't energize me for the rest of the day, but I feel like I can see an improvement on the horizon. And if nothing else it's good for my daughter. I feel bad that my middle daughter is missing out on this, but short of getting up at 4 a.m. it just wouldn't be possible.
This has been a good week I would say for fitness around here. I have finally committed to this and it only took 37 weeks. Now lets hear about your progress. Have you found a workout routine that works for you? Grab my button below and link up at the bottom with your blog post telling me all about you fitness goals and accomplishments for the week.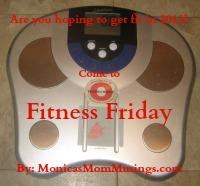 <div align="center"><a href="http://monicasmommusings.com" title="Monica's Mom Musings" target="_blank"><img src="http://i293.photobucket.com/albums/mm50/mom2natnkat/FitnessFriday_zpsd0fd3944.jpg" alt="Monica's Mom Musings" style="border:none;" /></a></div>
Check your BMI…
BMI Checker:

>>
unitUS Metric 
age 
sexmale female 
height ft in
weight lb
height cm
weight kg