If you're new here, you may want to subscribe to my RSS feed. Thanks for visiting!
What a week. If moving furniture down two flights of stairs isn't exercise, then I don't know what is. And we're still working on it too. We are mostly moved into our new apartment, but it hasn't been easy getting in here. Especially when your help flakes out on you. Who does that? So I'm lifting heavy furniture down the stairs with my husband. Needless to say I'm sure it took a lot longer than it needed to because I'm such a wuss and freak out carrying big heavy things down stairs. But hey, beds made it down as did dressers and desks, somehow. And I think that qualifies as my exercise for the week.
How about you, how have you been doing with your fitness goals this week? Grab my button and link up at the bottom with your own Fitness Friday post.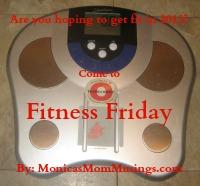 <div align="center"><a href="http://monicasmommusings.com" title="Monica's Mom Musings" target="_blank"><img src="http://i293.photobucket.com/albums/mm50/mom2natnkat/FitnessFriday_zpsd0fd3944.jpg" alt="Monica's Mom Musings" style="border:none;" /></a></div>
Check your BMI…
BMI Checker:

>>
unitUS Metric 
age 
sexmale female 
height ft in
weight lb
height cm
weight kg