If you're new here, you may want to subscribe to my RSS feed. Thanks for visiting!
As my husband's vacation comes to an end one thing I can say is we have walked, and walked, and walked some more. It has been a lot of fun though. Walking with your family makes it more enjoyable, that's for sure.
So that's what I have been doing to keep fit this week. Next week I see stairs in my future. Lots and lots of stairs. What have you been doing to keep fit? Did you have a good week? What do you need to work on? What are your goals for next week?
Grab my button and link up your fitness post at the bottom.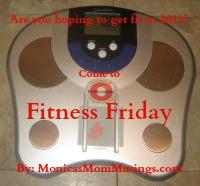 <div align="center"><a href="http://monicasmommusings.com" title="Monica's Mom Musings" target="_blank"><img src="http://i293.photobucket.com/albums/mm50/mom2natnkat/FitnessFriday_zpsd0fd3944.jpg" alt="Monica's Mom Musings" style="border:none;" /></a></div>
Check your BMI…
BMI Checker:

>>
unitUS Metric 
age 
sexmale female 
height ft in
weight lb
height cm
weight kg