If you're new here, you may want to subscribe to my RSS feed. Thanks for visiting!
It's Friday, time to check in with your fitness goals. As you might recall last week I was talking about starting the Cowboy Ryan lose 12 inches in 12 weeks program. Well, my first email for it came yesterday so I haven't really started just yet. However, I do have to say I have hit some glitches. I have had some trouble with the site. I needed to find my fitness zone, but I couldn't get to the calculator. I contacted them though and was told they are changing the website over so I guess I just got stuck in a glitch. They got me to where I needed to be.
I am disappointed though that I actually need a watch which monitors my pulse to do this. I wasn't aware that I would need that. I must admit, I find that a little disappointing. While I did get the program for free it normally costs $50 and they don't give you a pulse monitor. This is a huge necessity in this program. You have to keep your heart rate in a certain range when working out. If you are under you need to work harder, if you go over you need to lay down and rest until your heart rate goes down. So does anyone have any suggestions for good, relatively cheap pulse monitors?
Other than that things have been going along pretty much the same for me. We're almost through the birthday cake month. Next week I actually start my Live Below the Line campaign where I can only eat $1.50 worth of food a day for five days. Not what I would recommend for dieting, but I do anticipate losing some weight next week. I'll also be very cranky. It's for a good cause though. If you haven't read up on it yet please do so and if you can or feel so called to do so please donate.
Then come back here, grab my button, check your BMI, and link up your fitness post at the bottom. I hope everyone's doing well with their fitness.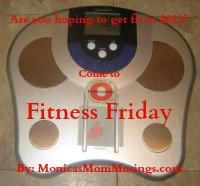 <div align="center"><a href="http://monicasmommusings.com" title="Monica's Mom Musings" target="_blank"><img src="http://i293.photobucket.com/albums/mm50/mom2natnkat/FitnessFriday_zpsd0fd3944.jpg" alt="Monica's Mom Musings" style="border:none;" /></a></div>
Check your BMI…
BMI Checker:

>>
unitUS Metric 
age 
sexmale female 
height ft in
weight lb
height cm
weight kg