I decided regardless of situation...if you look good you without a doubt you feel good, and that still applies whilst you're working out.  I'm not saying the next time you head to your gym to have a full face of make-up and wear your heels, but I do believe if you feel good in what you wear then you'll work out better. 
I decided with the New Year and all the new years resolutions, I'd attempt to inspire the fitness goals by embracing their fashion.  There are so many fantastic fitness brands out there creating seriously beautiful items, that are technically flawless for exercising. 
I have created some style ideas for 4 of my most favorite ways to keep fit; yoga, running, cycling and aerobics.
Yoga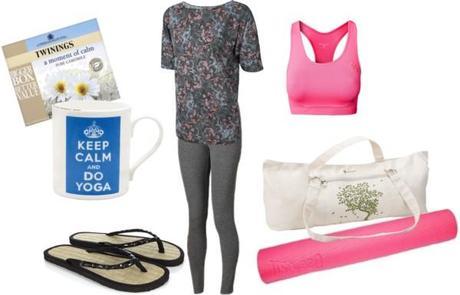 Yoga Tshirt - Sweaty Betty Navasana Yoga Tee Shirt - £17.00
Yoga Leggings - Sweaty Betty Kriya Yoga Leggings - £29.00  
Sports Bra - Champion Seamless Pink Sports Bra - £30.95
Flip Flops - Accessorize Metallic Bead Seagrass Flip Flops - £12.00
Yoga Mat Bag - Gaiam Zippered Tree of Life Tote Bag - £18.95
Yoga Mat - USA Pro Pink Yoga Mat - £6.99  
Yoga Mug - McLaggan Smith Mugs Keep Calm do Yoga - £4.80
Tea -
Twinings Pure Camomile 80'S Tea Bags 120G - Groceries - Tesco! 
I do yoga at my local gym but I also do it in my own home.  I do find it so much more relaxing in my own home because I make a camomile tea, light some candles and indulge in the quiet time.  If you haven't tried yoga you're missing out because its beautiful every way you look at it and regardless of intensity, it works you without you realising. 
Running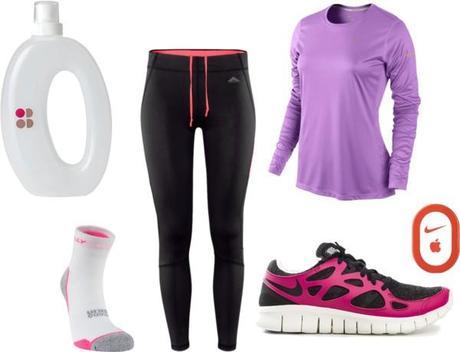 Running Tights - H&M Running Tights - £24.99 Long Sleeve Running Top - Nike Mil

er Long Sleeve Running Top - £24.99

Trainers - Nike Free Run

 + 2 Ext - £124.95 

 Socks - Hilly Monoskin Supreme Womens Ankle

t White/Pink -£12.00

Bottle - Sweaty Betty Run Water Bottle - £5.00 

Sensor - Nike and Ipod Sensor - £15.97

I have a love hate relationship with running,  I love to run when I want to and hate feeling I have to.  For example, I'll sometimes wake on a sunny Sunday morning and feel like popping my Ipod on and running, but if I know I've got a half marathon to train for I will hate feeling the pressure.  I adore the fact H&M have an affordable sorts range now so those running tights I've chosen are fabulous. 

Cycling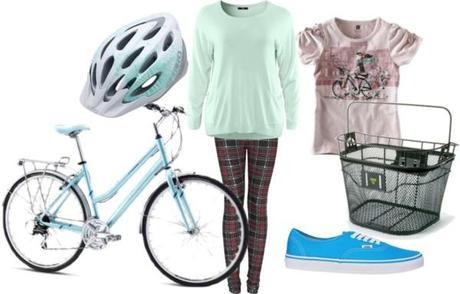 Leggings - Topshop Check Denim Leggings

- £25.00
Long Sleeved Top - H&M Top - £

12.99
Shoes - Vans Authentic Canvas Trainers Methyl Blue/True White - £40.00 
Top - Peter Storm Women's Cycle Print T-shirt - £1

3

.00
Helmet - Giro Skyla Helmet - £20.99
Basket - Topeak Front Handlebear Basket - £24.

99

 
Bicycle - Moongoose Crossway

300 2012 Women's Hybrid Bike - £379.99

 
 I do love a good cycle as you may have discovered from my previous posts.  I purely cycle for fun and I love nothing more than to get my bike and ride to work or even to the shops!  The outfit I have created is quite edgy and light hearted but equally so the design makes it extremely comfortable to ride in. 
Aerobics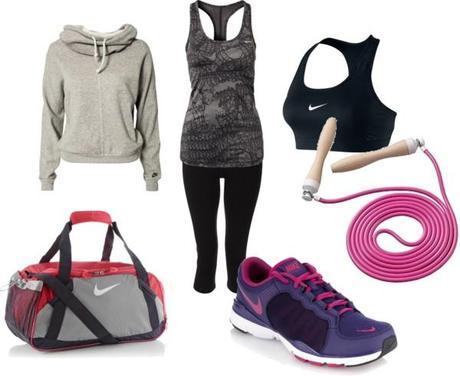 Vest Top - Nike G87 Print

- £28.00
Hoody - Nike Hoodie with

over sized

hood - £55.00
Sports Bra - Nike Pro Victory Compression Bra - £22

.00
Leggings - Zumba Short Leggings

- £27.95
Trainers - Nike Purple Flex Trainers

- £47.00
Skipping Rope - Sweaty Betty Skipping Rope - £10.00
Bag - Nike

Varsity

Girl 2.0 Duffel -

£20.99
I don't always like doing classes at my gym but I do like it sometimes... I find the key loop hole is variety, if you vary your class types then you'll never get bored.  Every few weeks why not attempt a different class than what you're used to? I have found since finishing education, (and now working full time) I just can't get enough of learning new things! Try something new to shake up your fitness timetable; Fitness Fir

st

have two new classes you can give a try, Athletics training and Grit training.    
Athletic skill classes like our Athletics

Fitness

class (inspired by professional athletes) and other classes using athletic equipment, (for example agility ladders, mini hurdles, medicine balls and cones,) are becoming popular again after the Olympics. This is set to continue into 2013. 
The Les Mills GRIT Series breaks through gym-time monotony by incorporating two components: STRENGTH and PLYOMETRICS. This means that your muscles work at a maximum level for the shortest amount of time possible, ensuring you can be on your way to your dream body in just 30 minutes! Perfect to  fit around a busy schedule.
That's a sure way to keep very fit, but why not give it a try?

!
Embrace fitness fashion then you can really feel good whilst working out

!

  I'll be posting more over the next months of what is out there to buy, and also what new fitness classes I have been trying out. 

xoxo