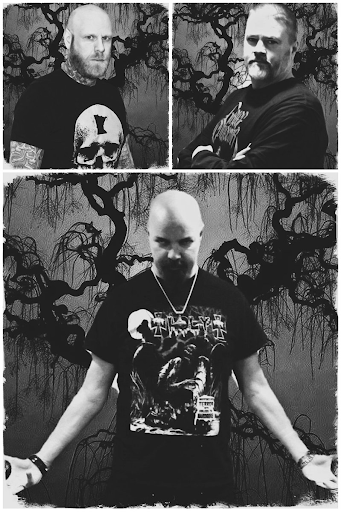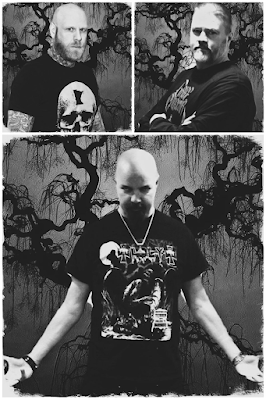 What do you get when you cross a former Candlemass singer, a drummer that is "deathly afraid" of snakes and one-time flutophonist?You get a doom metal trio called Grief Collector and the recipients of this edition of Fistul of Questions.  
What is your full name?
Brad Miller - Drums Matt Johnson - Guitars/Bass Robert Lowe - Vocals
What bands are you actively involved with?
Brad (Grief Collector, Brähn) Matt (Grief Collector, Signs of Reign) Robert (Grief Collector, Tyrant)
How did Grief Collector materialize?
Grief Collector started out as just a recording project by Brad and Matt. But once the songs were actually written, we realized how powerful they were. So they reached out to Robert to lend his unique and incredible vocal abilities to the songs.
Was Robert someone that you knew personally or professionally?
(Brad) I've been a huge fan of Robert's for over 25 years. One day when we were thinking of vocalists for Grief Collector, I realized I was friends with Robert on Facebook. So I reached out to him. The rest is Doom history.
What inspired the name Grief Collector?
Grief collector actually comes from the lyrics of a Candlemass song called "Man of Shadows".
What was the first instrument that you played?
(Brad) I started off playing guitar actually, but I play it left handed so it was too difficult for me. Lol (Matt) I started off playing the piano. Well, actually the Flutophone. Lol (Robert) Piano at the age of 5.
Tell me about one of your first musical memories?
(Brad) I remember playing a battle of the bands in the middle of a Fudruckers restaurant during regular dinner hours. Hahahahaha, good times.
What was the name of the first band that you were in?
(Brad) My first real band was called Krystal Reign. We did a combination of 80's cover tunes and originals. (Matt) My first band was called Sole Hunter
Who are some of your biggest musical influences?
(Brad) Kiss, Judas Priest, Candlemass, Fates Warning (Matt) Toni Iommi, Dave Mustaine for guitar,  Steve Harris, Geezer Butler, Allen Woody for bass. (Robert) Old Cheap Trick/Robin Zander, Hüsker Dü, Early Kiss/Ace Frehley.
I understand that someone in the band is a "sucker for 80's metal."  Does that extend to "hair" metal?
(Brad) Absolutely, I love the 80's metal a lot. Even though some of those bands were labeled "Hair Metal". The amount of talent was incredible. For instance, Crimson Glory, Leatherwolf and Lizzy Borden had amazing players and some really great albums.
If you could insert yourself into any one band what band would it be and why?
(Brad) For me it would definitely be Katatonia. I absolutely love everything about that band. (Matt) Metal Church with David Wayne, cause they are one of my all time favorite's and they do what they do no matter what.
Have you ever heard a song and immediately wished you had written it?  If so…  what was the song and artist?
(Brad) I really like "Wish you were here" from Pink Floyd. Such an emotional and powerful song.
Do you have any non-metal musical inspirations?
(Brad) I absolutely love the band Toad the Wet Sprocket. Everything they do is so heartfelt and emotional. They are definitely one of my all time favorite non-metal influences.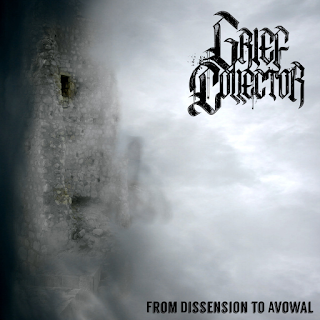 What is an absolute band killer?
(Brad) Egos (Matt) Egos and members out to serve themselves instead of the group.
Is there a non-metal song that you'd like to do a cover of?
(Brad) I'm actually in another band called Brähn. We are remaking songs from the 1960's-1980's in a Doom style.
You are driving cross country and you can only listen to one album.  What album would you choose?
(Brad) Katatonia - Night is the New Day (Matt) King's X -Faith Hope Love
One thing most people don't know about you?
(Brad) I'm deathly afraid of snakes.
What two things should people absolutely know about Minneapolis, Minnesota?
(Brad) Minneapolis has a lot of amazing bands coming out of here. The amount of talent in the Twin Cities is incredible.  It also has a very talented art scene and many great restaurants.
Give me a handful of bands from the Twin Cities that I should definitely check out. 
Chalice of Suffering, Living Through Ghosts, Cold Colours, Wolf Blood.
Do you have a pre-show ritual?
(Brad) Stretching my legs and usually having an adult beverage. Exciting huh?
The year is 1985.  Where are you at and what are you listening to?
(Brad) I was 12, probably listening to Kiss, Mötley Crüe, Dokken, Metallica. (Matt) Graduating from High School and listening to Crue, Dokken, Metal Church, Metallica, Megadeth, Queensryche, Ratt.
Prince or Bob Dylan (if you had to pick)? 
(Brad) Prince, no contest.
Favorite guilty pleasure?
(Brad) Watching cooking and baking shows. I'm a bit obsessed. (Matt) Häagen‑Dazs Ice Cream
Favorite book?
(Brad) Stephen King - The Stand
Favorite movie?
(Brad) That's a hard one to answer. Probably The Shining, Salem's Lot or The Exorcist.
Favorite album?
(Brad) Kiss Alive II
If you have yet to hear Grief Collector's new album From Dissension To Avowal then stop what you are doing (right now) and treat yourself to five slabs of exquisite doom metal.Seriously, right now!You will not regret it.Thanks mucho to Brad, Matt and Robert for taking the time to answer my queries.I really appreciate it.
~El Pedo Caliente (aka Uncle Jameson from the Fistul of Doom Show

  


Ps- Be sure to check out the Fistful of DOOM show airing on Fuzz Heavy Radio every Sunday at 6 p.m. c.s.t./ 7 p.m. e.s.t.
http://griefcollector1.bandcamp.com/album/from-dissension-to-avowal