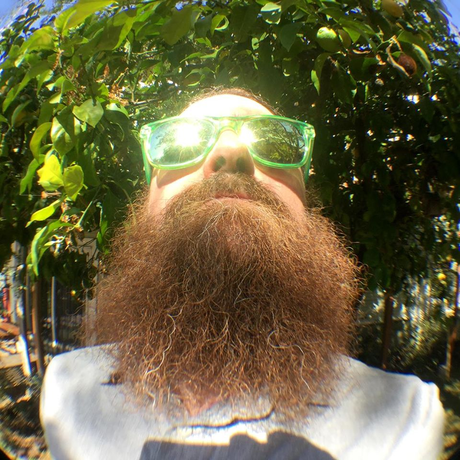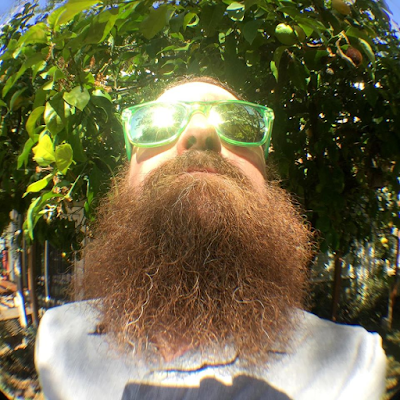 Singer/songwriter.Guitarist.Fiddler.Cajun accordionist.Artist.Rush enthusiast.Mountain man.Caller?I could go on and on about this guy and I'm not even going to mention the synthwave album that he did.This edition of Fistful of Questions goes out to SKUNK frontman and Slow Phase guitarist/pianist Dmitri Mavra.

  


What is your full name?
Dmitri Mavra  
Do you have any aliases?
Doesn't everybody???
What bands are you actively involved with?
My main band right now is SLOW PHASE, my other band, SKUNK, is currently on pause while the guys attend to various projects.
What was the first instrument that you played?
I picked up the guitar when I was 18 after a friend in a punk band showed me how to play a simple barre chord.
Tell me about one of your first musical memories.
Seeing the KISS Destroyer album when it came out. My dad had some store credit at the local mall record shop and told me I could pick something out. I saw Destroyer on display and couldn't even speak, I was just pointing at it!
What was the name of the first band that you were in?
Captain Dave & the Psychedelic Lounge Cats. We toured all over Michigan in the late 80s/early 90s. Then the whole band moved out to San Francisco in 1992 and played around for a few years.
So you are originally from Michigan?
Yes, I grew up near Ann Arbor.
What are two things that people should absolutely know about Michigan?
It's shaped like a mitten. It's cold and bleak during the winter, but beautiful in the summer.
What is Michigan's greatest musical export?
Motown, Elvin Jones, and the MC5/Stooges.
How did Slow Phase materialize?
I met our drummer, Richard Stuverud, when he was teaching my kid drums. We hooked up with his friend Anthony Pulsipher and started getting together to jam covers of Zeppelin, Sabbath, James Gang, Mountain, etc. We called ourselves Beer Machine and played a couple parties. Mostly we were just doing it for the hell of it, but when Skunk went on pause I suggested we start doing originals. By the end of the night we had our first song, Starlight (which is on our new album and also a video).
So the name Slow Phase came from "the most righteous setting on the 1971 Maestro Phase Shifter."  Describe exactly what that is and does to someone that knows nothing about instruments and gear.
The phaser is a sort of whooshing effect. When it's set to "fast" it has a warbly, vibrating sound, but when it's set to "slow" it's a trippy, sweeping woosh. I like the way Zappa incorporates into some of his early solos.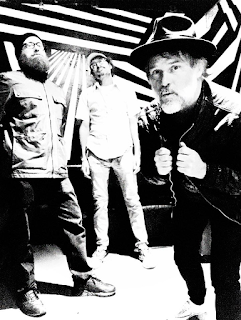 The album sounds fantastic.  Thanks for allowing me the early preview.  Tell me a little about it.  
You're welcome, thanks for checking it out! As I mentioned, we'd been jamming all these great early 70s tunes for a few years so when we decided to write our own songs that was the vibe we were cultivating. As the songwriter behind Skunk, I'd already been exploring that style for a couple albums. But with Slow Phase, Anthony and Richard are bringing in some songs too, and they're both great songwriters. Both these guys can sing lead and harmony, so that's opened up a lot of possibilities that you don't hear much in today's scene.
What is your favorite thing about touring?
Can't really say, I haven't done it in years!
What's the weirdest experience you have had on the road?
One time we had a flat tire late at night, but no jack. A trucker stopped and helped us out and we thanked him by giving him a black velvet painting of a semi-truck we had just found, and it looked just like his truck.
Do you have a pre-show ritual?
Yes, trying to get a sound check!
Do you have a favorite venue to play at?
Bottom of the Hill, San Francisco. Great sound, great people.
What band have you played with that has really impressed you with their live show?
Bay Area band ZED always impresses me!
If you could insert yourself into any one band what band would it be and why?
Sir Lord Baltimore. I would have loved to be the 2nd guitarist. They're the most off-the-hook rock band of all time.
Have you ever heard a song and immediately wished you had written it?  If so what is the song and artist?
Well, many of course. Master Heartache by Sir Lord Baltimore is pretty much perfect.
Do you have any non-metal musical inspirations?
Many! I play the fiddle, banjo, Greek bouzouki, mandolin, and a bit of Cajun accordion.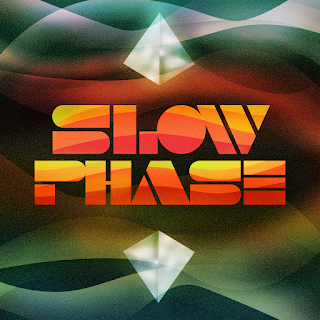 Is there a non-metal song that you'd like to do a cover of?
I like playing some of the old Greek songs in a heavy riff style.
Favorite band t-shirt that you own?
Ahh, I don't have too many. I like my Green Milk from the Planet Orange shirt a lot!
You are writing a book about your life thus far.  What is the title of that book?
Too Much Music, Too Little Time.
You are driving cross-country and you can only listen to one album.  What album will it be?
On the Corner by Miles Davis. A roommate played this for me in college and I fell completely in love with it. I ended up stealing his copy, which I still have (sorry Jimmy).
What is the longest you've gone without bathing?
I usually hit some fiddle music festivals in the California mountains during the summer, so...
Do unicorns sleep standing up?
This sounds like a trick question! I'll have to go with no, THEY NEVER SLEEP. The war between the unicorns and the faeries in Rainbowland has been raging for seven aeons and the unicorns must be vigilant at all times.
The year is 1986.  Where are you at and what are you listening to?
Senior in high school. I was an obsessed Butthole Surfers addict at the time.
Tell me what you've got going on over at Fuzzy Mind.
Fuzzy Mind is my own personal label. I put out my stuff, including a banjo album I recorded years ago and a weird electronic album. I put out an album by my old friend Kosmos G. Hopefully some more music from my talented pals. Fuzzy Mind is also a line of tshirt designs I made for early bands like Leafhoud, Granicus, Budgie, and others.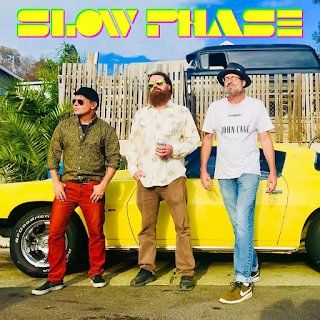 Favorite book?
I have a lot of them. Perdido Street Station by China Mieville is an insane psychedelic horror fantasy novel that I love and highly recommend.
Favorite movie?
Eraserhead, hands down!
Favorite album?
Ahh, again, too many. Clear Spot (Captain Beefheart), On the Corner (Miles), Psychic, Powerless (Butthole Surfers), Kingdom Come (Sir Lord Baltimore), Master of Reality….
Favorite meal?
Anything Indian!
Massive thanks to Dmitri for taking the time to answer my queries and for sending the album my way.Slow Phase's debut album releases March 20th and will be available digitally and on cd.If you want to wrap yourself in a cocoon of warm and fuzzy guitar tones and sizzling 70's inspiredrock'n roll (and why wouldn't you?) then I highly recommend this album.
~El Pedo Caliente (aka Uncle Jameson from the Fistful of DOOM show)
Ps- For an hour plus of the finest sounds from the heavy metal underground be sure to check out the Fistful of DOOM show.Available for your listening pleasure over on Mixcloud.

  


http://slowphase.bandcamp.com/album/slow-phase


Link to video for the song Starlight.


www.teepublic.com/user/fuzzymind