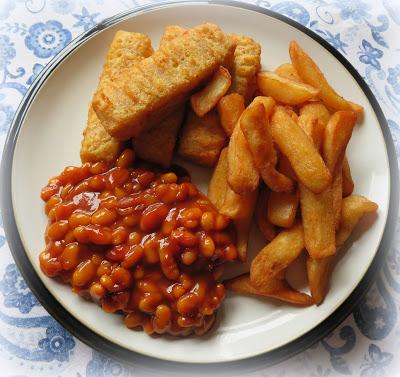 One thing that children really enjoy for their suppers here in the UK are Fish Fingers, Chips and Beans.  Its a simple meal and quick to throw together, making it a firm favorite with mums as well. I confess that from time to time, Todd and I also enjoy it.  It can be as simple as opening frozen packets and tins, popping the fish and chips into the oven and the beans into a saucepan to heat up. I, however, always like to add a little twist to my baked beans which I am sharing with you today.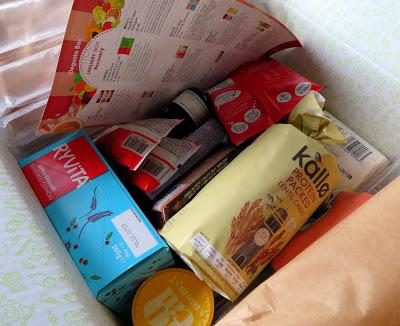 Every month I am the lucky recipient of a Degustabox.  Once a month, around the middle of the month, I am sent one of these lovely boxes which contain a delicious assortment of all things foodie.  I just love these boxes. Opening each one is tiny a bit like opening a Christmas gift. Always a surprise, and always filled with things that pique my interest and desire to try.
Degustabox
is a monthly foodie subscription service that sends out a range of 10 to 15 specially selected foodie products.  There's always a great mix of new products that I haven't tried before, as well as plenty of treats from more established brands. Quite often you will have the opportunity to try  new products before they arrive in the shops, so it can be a bit of a sneak peak! Each Degustabox costs only £12.99, delivery costs are included in the price, and there is no fixed contract involved - you can cancel at any time. I love getting these boxes! In my opinion, they are great value for money spent.  
I confess I am a bit late getting to my post about it this month, but my mother passing away in the latter part of January really threw me for a loop, and I have gotten behind on all sorts.  I hope I am forgiven!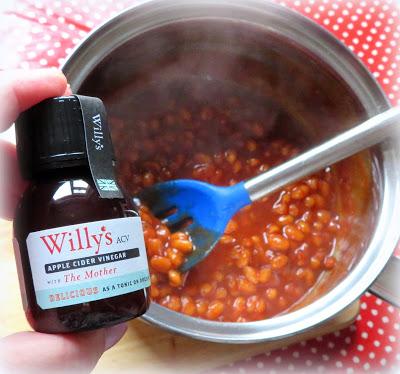 One thing I also enjoy the challenge each month is creating a recipe using at least one of the products included in the box. Sometimes they immediately jump out at me, and sometimes I need to chew them a bit in my head. When I saw the products in the January box I knew exactly what I wanted to do.
First let me tell you about the January Box, which was called the Recovery box.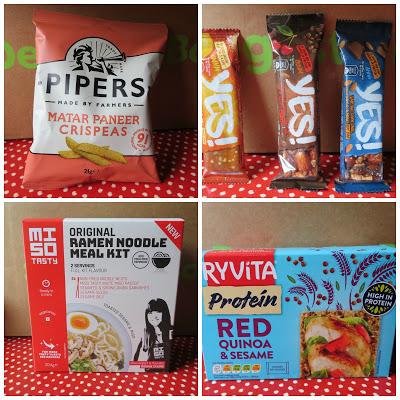 PIPERS
Crispeas Matar Paneer 1 X £1
For a tasty, low calorie, vegetarian snack look no further than Pipers Crispeas.  Crispeas are a fresh take on the British pea, offering protein, fiber and only 91 kcal per pack. As you'd expect from Pipers, Matar Paneer Crispeas offer bold Indian flavour
 YES!
Fruit and Nut Bar 3 X £1.29
YES! snack bars are delicious, wholesome and perfect for snack on the go. The fruit bars contain no added sugar, besides naturally occurring sugars, and count as 1 of your five  a day. Their nut bars contain 5g of sugar and are a source of protein. 
MISO Tasty
Original Ramen Noodle Kit 1 X £3.50 
Miso Tasty's take on the classic Japanse dish, hailed as one of Japan's top inventions 0 the Ramen Noodle! With no-fried noodles, it is a comforting meal with a light base from their signature miso. Includes sesame oils and toasted sesame seeds for extra flavor. Simply add your own topping.

RYVITA
Protein Red Quinoa & Sesame 1 X £1.59
We hope you enjoy new Ryvita Protein. Every crunchy slice is baked with pea protein & Rye, making them high in protein, high in fiber & suitable for vegans. Try with Hummus & your favorite veg for an easy protein-packed lunch. Available in the cracker aisle of good supermarkets.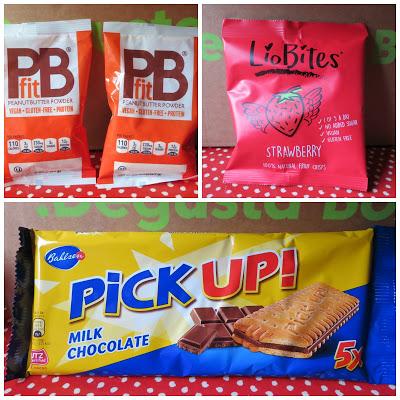 PBFIT Peanut Butter Powder
2 X £0.75
PBFit is everything you love about peanut butter, made better. Whole roasted peanuts, pressed to perfection, means PBFit contains up to 90% less fat than traditional Peanut butter and about 1/3 the calories.  Great in smoothies, shakes, baking and much more.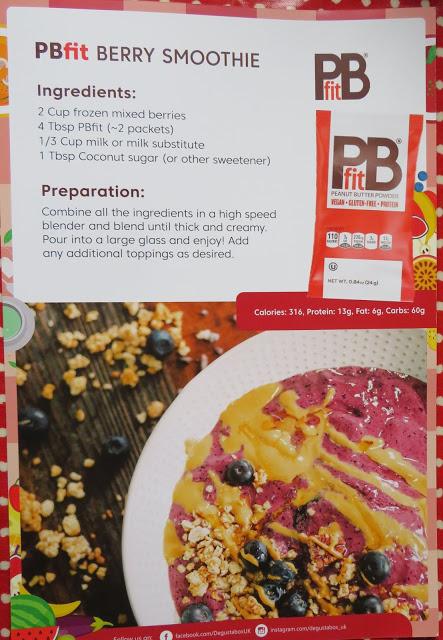 There was aso a recipe card included for the PBfit with a delicious looking smoothie recipe on it. 
LIO BITES
Freeze Dried Strawberry Crisps & Apple Crisps 1 X £1.50
LioBites are healthy frui crisps for the whole family to enjoy. They pick fresh fruit in season and freeze-dry it to create delicious LioBites, full of flavour, vitamins and anti-oxidants. LioBites range includes Apple, Strawberry and Banana crisps. 1 pack counts as 1 of your 5 a day.  
Bahlsen Pick Up!
Milk Chocolate 1 X £1.69
Pick Up Bars by Bahlsen are a delicious combination of a thick and smooth milk chocolate slab, sandwiched between two crunchy biscuits.  They are perfect for snacking on the go due to their individual wrapping, and are great to pick you up whenever you need a treat.

KALLO
Corn Cakes & Lightly Salted Organic Rice Cakes 2 X £1.30 
Kallo's range of Rice and Corn Cakes provide the perfect new year snacks to get you back on track. At only 30 calories per cake, less than 3 % fat and all gluten-free, they make the perfect base for a delicious topping. 
HARTLEY'S
10 cal Jelly Pots 2 X £0.75
Hartley's 10 call Jelly pots in fabulous dessert inspired flavours.  These puds are perfect for an after dinner sweet treat and with fewer than 10 calories per jelly pot, they are ideal for avoiding any New Year resolution diet wobbles. Available in Lemon Cheesecake and Black Forest Gateaux.

WILLY'S
Apple Cider Vinegar 1 X £2.95 
Willy's ACV starts if amongst the 200 acres of pristine orchards in the beautiful Herefordshire countryside. From apple to bottle Willy's ACV provides you with your daily dose of pro-biotic goodness. Their raw and unpasteurised ACV contains the mother and is sustainable and recyclable.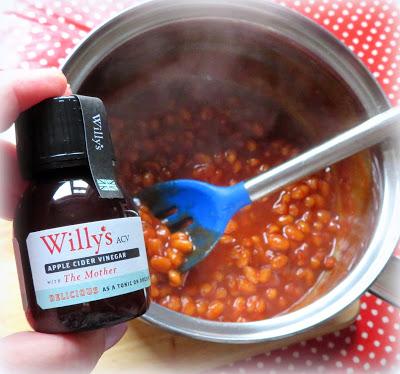 This is the product I decided to use in a recipe, which might seem as a bit of a waste as it is a pro-biotic, but running out of time, and having already received the February box, I decided to go with it.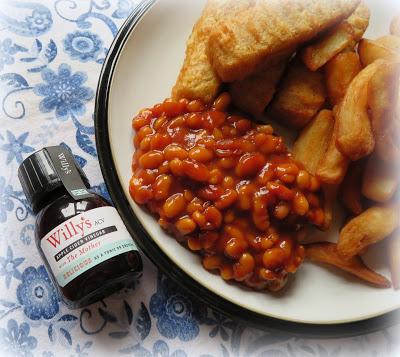 I confess that I am not overly-fond of tinned baked beans. My mom made the best baked beans from scratch and we only ever very rarely had tinned baked beans when we were growing up. Yes, we
were
spoiled.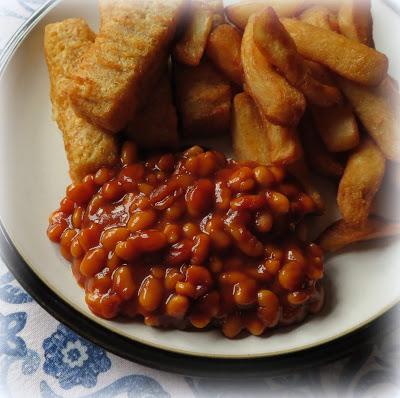 I do know how to fix tinned beans up however, to taste very close to my mother's home baked beans with the addition of a few simple ingredients.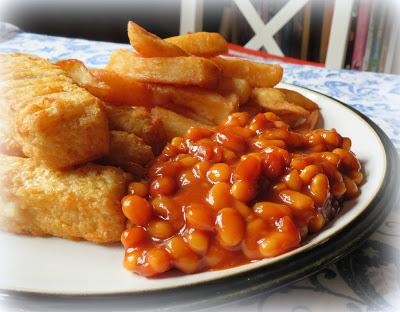 Apple cider vinegar, molasses, soft light brown sugar, and tomato ketchup  . . .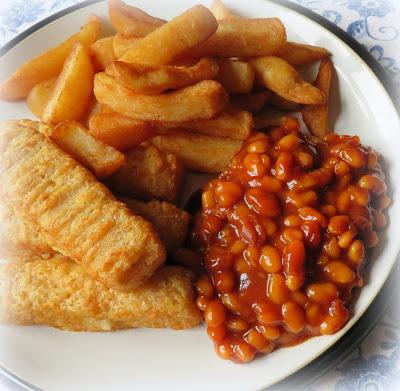 Prepared mustard and onion powder complete the mix.  Don't use onion salt.  Only use the powder.  You just stir all of these ingredients into the beans and let them simmer for about 15 minutes over low heat to infuse them with delicious flavours.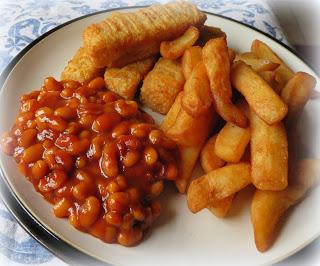 I also buy the best fish fingers and frozen oven chips that my money can buy, or on occasion, I will even get Todd to pick up chips from the local chippy.  Whilst this isn't a supper I would feed the children really often, it does make for a tasty and quick occasional supper from time to time.
Yield: 4
Author: Marie Rayner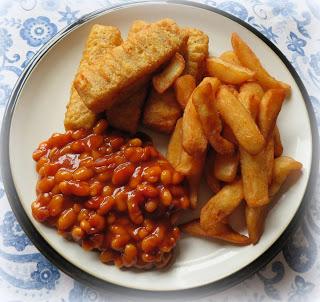 Fish Fingers, Chips & Beans
Quick and easy this is often a child's favorite supper. This special touch on the beans takes them over the top to delicious!  Another store-cupboard meal.
ingredients:
1 package of your favorite frozen fish fingers
(4 serving size)
1 package of  your favorite frozen oven chips
(4 serving size)
1 400g tin of baked beans in tomato sauce (14 oz)
1 TBS apple cider vinegar
1 TBS mild molasses
1 TBS soft light brown sugar
1 TBS tomato ketchup
1 tsp hot mustard
1/2 tsp onion powder (not salt)
instructions:
Preheat your oven and cook your fish fingers and chips according to the package directions.  While they are cooking, open your beans and pour into a pot.  Add the remaining ingredients.  Bring to a boil, then reduce to a simmer and leave on low heat simmering, stirring occasionally, until your fish fingers and chips are done.
To serve divide the fish fingers, chips and beans between four heated dinner plates and serve immediately.
Created using
The Recipes Generator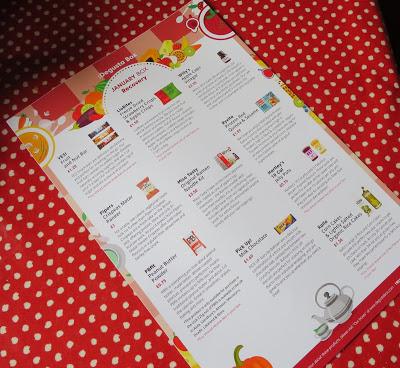 Many thanks to Degustabox UK for sending me this box. I have to say I really look forward to getting my box each month. There are always lots of things in it to enjoy and new products to try out. I highly recommend. You can also tailor the boxes to your own likes and dislikes by filling in your own Taste Profile.  Do you like the sound of this box? Why not sign up now! I find them to be really good value for money spent and I really enjoy trying out new products that I have not tried before.  
Follow them on Facebook 
Follow them on Twitter  
So, that was the December Degustabox - a nice selection of products as always. We loved it. The price of each Degustabox is £12.99 (including delivery). To order your box, visit www.degustabox.com
Note - Although I was sent a box free of charge any and all opinions are my own.
Bon appetit!