First time and not my last from karala also i bought some souvenirs from there
I traveled with around Lake Como told me it was my favorite place on Earth. I spoke of cruising along a serene web of palm-fringed canals, exploring verdant tea plantations, and experiencing a vibrant local culture known for its food, hospitable people, and diverse traditions. I just had to go.
I stayed at Serenity, an estate nestled deep in a belt of rubber plantations and fragrant spice gardens. Many of Kerala's tea and cardamom plantations are located within a one-to-three hour drive from Kanam, so we took a scenic dive up to Vagamon, where i and my friend toured a tea factory, traversed the towering Pine Tree Forest, and hiked up several lookout points to catch a panoramic glimpse of the rolling hills. We ended the trip in the backwaters of Kumarakom, where we cruised the placid canals of Alleppey and lazed about the pool at Purity, soaking in the vistas of Lake Vembanad.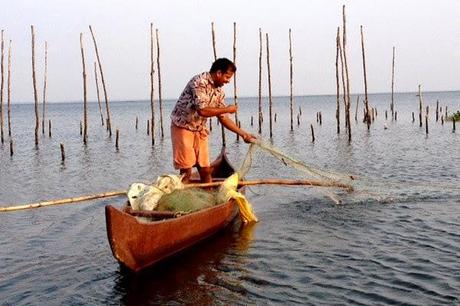 Cruising along Lake Vembanad at sunset on a local fisherman's canoe. He showed us the mechanics of his Chinese fishing net, constructed from raw coconut wood, and later invited us to dinner at his home.
Best tip i got before i left
To indulge in and experience the many dishes of Kerala, which is known for its thali and variety of sweet desserts. Several friends who traveled throughout the region told us not to be shy about trying as many local dishes as our stomachs could handle. So we ate. A lot.Take a canoe cruise through the canals of the backwaters, particularly in Alleppey, where people are going about their daily lives — bathing, washing clothes, and just spending time with family and friends along the rocky ledges. It will change your perspective on life.
This is my idea for you to buy the best souvenirs and carry back from Kerala
Kerala Mural Paintings: One of the most famous and colorful artifacts that are preferred by most tourist are the Mural Paintings. These paintings depict legends and beliefs of Kerala and Indian culture. Walls of ancient temples, palaces and churches of Kerala can be seen adorned with Mural arts.
It takes lot of dedicated effort to create this wonderful visual art. You can buy them from handicraft shops or order them directly from noted mural art creators.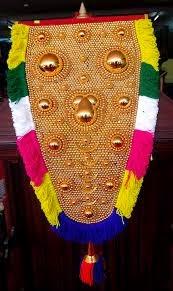 Nettipattam -The sparkly ornament worn on the forehead of the elephant called Nettipattam. It is mostly worn during temple festivals and is crafted in gold by a skilled clan of artisans. It should be observed that a real Nettipattam is made up of three and a half kilograms of copper and three sovereigns (24 gms) of gold.

Imitations are available in various prices and sizes that can be used as wall hanging and small ones to hang behind the front glass of the car.
And if you dont know what is Nettipattam,here a detail about it.

A caparison is a covering, or cloth, laid over a horse or other animal, especially a pack animal, or horse of state. In modern times, it is used mainly for decoration in parades and for historical reenactments. A similar term is horse-trapper.The word is of Spanish origin, derived from an augmentative form of the Latin word caput, "head".
In the Indian state of Kerala, elephants are beautifully decorated during temple festivals. They wear a distinctive golden head covering called a nettipattam, which is often translated into English as an elephant caparison. However, it covers only the head, not the body, as in a horse caparison.
Source : wikipedia


Nilavilakku - Another striking thing you will get in Kerala is the "Nilavilakku" (lamp on the floor) which is lit during every auspicious occasion in temples or homes.
It is a good idea to buy some of these lamps for a simple reason i.e., they look beautiful. You can buy such lamps of all sizes. They are cast in bronze or bell metal.
Kasavu Sari ( Kerala Sari) - This is an ideal souvenir to carry back from Kerala especially if you want to gift something to the women folk in your family. Kasavu Sarees is a peculiar traditional Keralite saree in White & Gold, which is worn by women in Kerala. It is woven from fine cotton and edged with gold and copper jari.
In you next trip to Kerala do not forget to take these unique pieces of memories back home. These souvenirs can convey your travel memories better than even a thousand photographs can do.

My trip to karala video