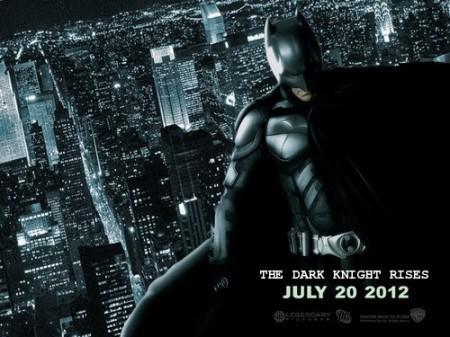 Poster for The Dark Knight Rises
What are you doing in July? You probably haven't booked that far in advance, have you – unless you're a fan of Batman. Yes, showings for The Dark Night Rises, number three in Christopher Nolan's epic Batman trilogy, have already sold out. The film opens on the 20 July, 2012. It stars Christian Bale as Bruce Wayne (and, of course, Batman); Anne Hathaway shows up too, as well as Tom Hardy – as a villain! – Marion Cottilard, and Joseph Gordon-Levitt.
Midnight IMAX screenings at the AMC Lincoln Square in New York, and also at AMC Universal City in Los Angeles are fully booked.
What's it gonna be about? Well, Den of Geek gave some "very mild spoilers" about the new film: Batman will be hanging out back in the Batcave, in the newly rebuilt Wayne Manor; and the film will deal with the consequences of the end of The Dark Knight.
"We can't even make plans a week in advance, let alone buy movie tickets for six months from now. Let's just hope everyone remembers to go," said Richard Lawson in The Atlantic Wire.
Under pressure. The NME said that Nolan himself felt under "immense pressure", and that he suggested that fans watch The Dark Knight again before they see the next installment.
What's behind the story. The reason why it's sold out, said Hollywood Reporter, is because AMC gave some prerelease screeings for fans of Mission: Impossible – Ghost Protocol, which included a six minute prologue of The Dark Knight Rises. It's not surprising that when the theater managers offered tickets for midnight screendings that the fanboys shelled out. "It all fits in with Imax's strategy of becoming a preferred prerelease window for studio pictures, helping to build buzz before a wide theatrical release."
Hide in the loos. If you really want to see it,  The Bleeding Cool blog said there were a "couple of wheelchair spaces available" in LA, so that's one way you could get in. But "[d]on't forget the chair." It also suggesting buying tickets from a tout; getting a job at the cinema; hiding in the toilets; becoming a member of the press; and, finally, dating a projectionist. "And there you go – five perfectly viable-ish ways to catch a midnight screening when all other hope has been extinguished."
If you really can't wait that long, watch the trailer here: