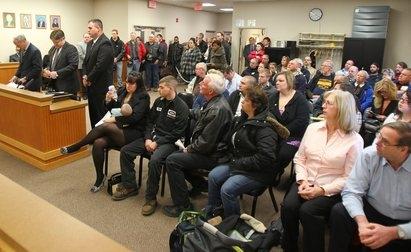 Benjamin M. Wassell, right, stands with his attorney Michael S. Deal, center, and Assistant Attorney General Paul McCarthy, left, in a courtroom packed with supporters Wednesday. 
Photos by Mark Mulville/Buffalo News
The Buffalo News
Authorities, though, say Wassell flouted the new law by taking advantage of an increased demand for the banned assault-style weapons by adding features to make the two rifles he sold illegal and thereby increase their value.
He is accused of selling a Del-Ton AR-15 rifle, 299 rounds of ammunition and six large-capacity clips for $1,900 on Jan. 24, nine days after the SAFE Act was passed. That gun had an illegal pistol grip, telescoping butt and bayonet mount. On Feb. 24, he allegedly sold an Armalite AR-10 Magnum semiautomatic rifle with 21 rounds of ammunition for $2,600. That gun had a pistol grip.
Wassell is employed by a utility company to check rural gas lines and well heads, and also has a modest disability pension from his war injuries. He reportedly enhanced the guns to earn money to help support his family.
State police, in their complaint, pointed out that Wassell went through with the second sale even though the undercover officer told him he had a felony domestic violence conviction. Felons are prohibited from owning guns.
"In this case, he sold a dangerous assault weapon to an undercover police officer who could have very well been a dangerous felon looking to do harm in our community," said one law enforcement official familiar with the case.
Wassell also allegedly was selling or attempting to sell several other guns that he had illegally modified.
"He would get the main portion of the gun, the receiver with the barrel, and make modifications, like adding a flash suppressor, telescoping butt, bayonet mount, features that are currently prohibited under the SAFE Act," the official said.
So, he sold guns to a guy who said he was a disqualified person. That right there is enough to make him a criminal. Plus, he sold a type of gun that was recently prohibited. This is more like "bad laws be damned." But, as Ghandi said, when doing civil disobedience, one must be prepared to pay the price.
The worst thing about this case is the failure to take responsibility for his actions.  It's not his fault, it's never his fault. How many times have we heard gun-rights folks saying  certain laws MAKE criminals out of law-abiding citizens?  That's a pathetic shirking of accountability.
The pro-gun liars are touting this as the first bust of the NY Safe Act. But, wasn't it already a crime to sell a gun to someone you suspected of being a disqualified person?
And would someone please tell us what his having been a "war hero" has to do with it.
As we recently discussed
, I'm not the biggest fan of former-military guys wearing their war wounds like a crown, as Elton put it.  In this case he sounds like a true hero, having been seriously wounded and risking further injury to save fellow Marines, but I ask again, what does that have to do with anything?
What's your opinion?  Please leave a comment.