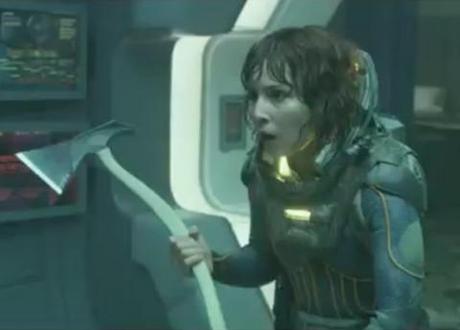 Prometheus: When scientists start wielding axes, you know things have gone wrong in the lab
The background
Early reviews of Ridley Scott's hotly anticipated Prometheus are in, and it seems critics are divided over the Alien director's first sci-fi film in three decades.
Originally conceived as a new installment in the Alien franchise, Prometheus is in fact a stand-alone movie that has some overlap with the acid-for-blood monster universe. Starring Noomi Rapace, Michael Fassbender, Charlize Theron and Idris Elba, the film tells the story of scientists heading to a remote moon in the hope of discovering the origins of mankind. Their mission is sponsored by Weyland Industries (sound familiar?) and, as viewers may expect, things don't exactly go according to plan. Cue aliens.
Backed by a massive marketing campaign, Prometheus is coming to cinemas on a wave of hype. But can the film live up to sky-high expectations?
Technically magnificent but not daring enough
"Technically, Prometheus is magnificent," wrote Todd McCarthy at The Hollywood Reporter, praising the film's "graceful and vivid cinematography," convincing effects and judicious use of 3D. The trouble is, McCarthy said, that Prometheus "caters too much to imagined audience expectations when a little more adventurous thought might have taken it to some excitingly unsuspected destinations." Initially, the film has a philosophical, thoughtful tone, but when the aliens arrive, things become rather less thoughtful – and considerably more gruesome.
Little sign of intelligent life
"Ridley Scott's first sci-fier in the three decades since "Blade Runner" remains earthbound in narrative terms, forever hinting at the existence of a higher intelligence without evincing much of its own," said Justin Chang at Variety. The film may be visually impressive, but most of the cast deliver merely "passable" performances and the narrative structure is questionable: "The picture's very structure serves to disperse rather than build tension, cross-cutting regularly between the underground chamber, where two geologists (Sean Harris, Rafe Spall) meet an ugly end, and the ship, where efforts to contain the threat are thwarted by the increasingly uncertain chain of command."
Chilling rather than all-out horror
"While Prometheus has some striking chilling moments it never plays the all-out horror card, instead developing the science alongside the action and punctuating the film with moments that jolt and amaze," wrote Mark Adams at ScreenDaily. Prometheus demonstrates that Ridley Scott is perfectly suited to the science fiction genre, and "he has delivered a film that is already one of the most anticipated titles of the summer and should thrill, challenge and provoke audiences ready for his signature brand of intelligent and visceral film-making."
Watch the Prometheus trailer below