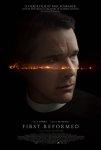 Ernst Toller is the pastor at the First Reformed Church in upstate New York. It is seen as a tourist church or a souvenir shop. He begins to write a diary which he will keep for a year then destroy, he is struggling to deal with the tragedy he is dealing with on a daily basis.
Ernst is struggling with the situations he is placed in and begins to doubt his faith as his church is dwindling down and only a few people actually attend. The death of his son which he blames himself for due to him being in the armed forces. When he meets Mary a pregnant woman seeking counselling for her husband Michael who has been radicalized. They form a very strange relationship which in all honesty I didn't fully understand. Especially one very weird and odd scene, I just didn't really get it at all. I think I was very wide of the mark with all of this film and missed the whole point?
I had heard quite a lot about this film beforehand in terms of Ethan Hawke's performance and other than him being a priest in terms of story I had no idea at all. I am not religious in any sense, even though when I was younger I was part of the Girls Brigade and went to a Church of England Primary School which meant I was taught about God quite a bit and attended church and mass.
Anyway I did not like anything about this film and any meaning was totally lost on me. I found it boring from start to finish and the performance could not save it personally for me. I think with a great performance you need to actually feel connected with the character or events in the film. I didn't have any of those things, in all honesty I wanted to just turn it off but I actually paid to rent it from Amazon Video after hearing about it. It was given a very limited cinematic release here in the UK! I guess it didn't help that I've never really been a huge fan of Amanda Seyfried and she quite a big role in this one, I didn't even know she was in it until I started watching and her name came up. Which just shows that I don't really pay much attention to film posters!
Yes Ethan Hawke puts in a rather haunting and impressive performance, but I needed more than that to like or even enjoy parts of this film. I didn't enjoy any of it. I am not sure though if it is even the type of film you can enjoy? I would love to hear from anyone who has a different view or opinion on this one? If you could explain what I have missed with some of the hype surrounding it I really would appreciate that!