Yes, that's right!  My first paperback has been released!  You may recall that I mentioned in previous posts that I was trying two different 'Print On Demand' (POD) services.  Well, the clear winner in terms of timescale and level of communications is skoobebooks.  Skoobebooks had everything but the final )printer's) proof sorted by last weekend, and that last proof was sorted yesterday.  I would like to express my thanks to Keith at skoobebooks for all his hard work.  Needless to say, more paperbacks will be entrusted to them!
FeedARead are still processing the novelette I sent them.  They have finished the interior but the cover hasn't yet been finished.  Considering the fact that I sent the manuscript to FeedARead first, I'm not overly impressed with their performance so far.
Now, as to the actual, real live paperback: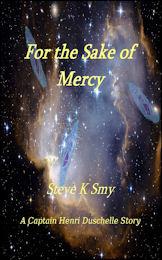 For the Sake of Mercy (A Captain Henri Duschelle Story) is available for ordering.  It costs £3.99 GBP, plus post & packaging, and is normally despatched in 5-10 days from skoobebooks.
To repeat the book's blurb:
Merchant Captain Henri Duschelle, a man Union Fleet wish they had, must lead his loyal, hard fighting crew on a seemingly impossible mission: to deliver a vital organ to the dying son of one of his crew, across the longest span of the colonised worlds – to an insane deadline. He is convinced that only his ship, the stunningly beautiful Persephone, can make such a journey in the time allowed. But dangers lie in wait on this, perhaps the greatest voyage ever made by humans…

A novelette in the series: The Captain Henri Duschelle Stories.
The paperback has 68 pages.
About the Series:
For those 'not in the know', the series of The Captain Henri Duschelle Stories made an early start with the short story To Sail The Dark Sea.  I decided that that tale would, for now, constitute Number 0.5 of the series, with For the Sake of Mercy being Number 1 and the next novelette, The Ossilan Affair, being Number 2.  At this point in time, there isn't a set chronology, other than the fact that Number 2 most definitely follows immediately on from Number 1!  That may sound obvious, but those numbers may change in time, if new tales actually precede them chronologically.  The numbers, therefore, are rather arbitrary.  It's not even certain, at this point, that the short story occurs earlier than the tales in the two novelettes.  The numbers are there purely for convenience.  Also, there is no certainty that future tales will all be either short stories or novelettes.  It is an entirely flexible arrangement.  All I can say, with any certainty, is that the existing short story will continue to be available for free download, though it may be added to another, longer, tale in the future, as 'bonus material' for anybody who hasn't availed themselves of the offer.
~ Steve
52.057772
1.143786