We all remember our first love. That first flush of embarrassment when someone mentioned your name and their's in the same sentence, that butterfly feeling in your stomach before you saw them. To us boys our first love was never a girl. Oh no, it was a bike such as a Grifter or if you were unlucky a Boxer or an Atari console with the latest Pong game. And of course there was football. We all had our first loves there. Back in the early 70′s it was Leeds United this, Leeds United that. Match of the Day and The Big Match used to be our fix, and if we were lucky on a non school night we may just be allowed to stay up and watch Sportsnight and catch a midweek game. None of this Super Sunday or foreign internet feeds I will have you know.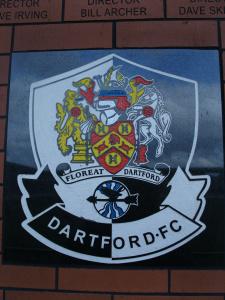 Coming from a footballing family, and with two brothers, the beautiful game played a bit part in my up bringing. I was supposed to be a West Ham fan (something I became later but the reasons behind that are for another day you can read about here) but with the rise of hooliganism on the terraces Mum wasn't keen on letting her youngest son be exposed to such horrors at an early age. So instead Dad used to take us literally up the road to Watling Street, home to Dartford FC until such a time he was allowed to take me to First Division football.
To me this was the best place in the world. I was allowed to wander wherever I liked, and could spend my pocket money in the club shop on programmes from around Britain. Come Monday morning I would be in school impressing the girls that I had been to see games in far flung places as Alloa, Workington and Tranmere using my newly acquired programmes as my evidence. Even junior school girls are impressed by a man who travels.
My first ever game of football had been at The Valley, watching Charlton Athletic play Burnley in April 1974 just a few weeks before Dartford went to Wembley for the first (and only time) to face Morecambe in the FA Trophy. I was not allowed to go and sulked for a few days until I was promised by Dad that not only would he buy me a Dartford shirt (a white Bukta number if I remember) but also he would take me to a few games at Watling Street in the coming season.

Few people can remember things from when they were 5 but I can still almost smell the cigarette smoke underneath the covered terrace, or the strange looking drink people consumed in the winter (Bovril was not a household name in suburbia at the time). The main stand seemed like the biggest creation known to man, despite it only covering a third of the pitch. Underneath was a great place for kids like me to play despite the stories we had been told about "Monkey Alan" who lived under there as well.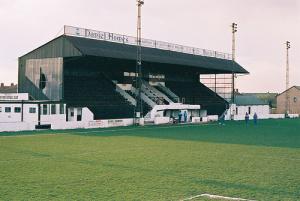 As the fable goes (which means there is probably no grain whatsoever in the truth) he had escaped from Mabledon Mental hospital just up the road (in those days they told it like it was – none of the psychological behavioural units) and was in hiding in the ground. Quite how the authorities didn't know this was a mystery to me as a football ground on the doorstep of the hospital would have been the first place to look. Funnily enough in the UK version of The Office, the character Gareth Keenan refers to a "Monkey Alan" which is believed to be in honour of the rumour as actor McKenzie Crook actually grew up in Dartford.
That season I went to over a dozen games at Watling Street including games against eventual Southern League champions Wimbledon, who had Dickie Guy in goal (who was later to find fame in saving a penalty in a cup game versus Leeds United) and a certain Dave "Harry" Bassett who was sent off in a 2-0 defeat. Want more proof that footballers are pampered these days?
Well this was the Darts third game in four days over the Easter period. The same season the club reached the first round of the FA Cup and lost narrowly at Watling Street to Plymouth Argyle 3-2 with a bumper crowd filing through the turnstiles, although as usual I was lifted over the turnstile for free. However one incident that sticks in my memory from the season was a game versus Grantham Town when fed up with the stick he was getting from a particular home fan, the away goalkeeper hurdled the fence around the pitch and chased the fan into the car park, whilst the game carried on for a couple of minutes in his absence.
The season didn't end on a high though as the Darts were relegated, winning only 9 games from their 42. Looking back at the Southern League today it is strange to see some of the old names playing at this level. For instance, Burton Albion finished fifth, two places above Margate – a distance between those of over 200 miles – hardly a fair geographical split. Also in the league were Nuneaton Borough, Atherstone Town, Stourbridge and Guildford & Dorking United – teams had have disappeared from view in Non league circles.
Two seasons later the Darts were back in the Southern League. By this time I was allowed to cycle to the games with my brother. This involved a trip into Dartford town centre before the game where he would ride up and down the busy High Street posing on his customised Chopper whilst I sat in Wimpey with my Big Bender (they still sell these to this day). After the long slog up East Hill we would leave our bikes in the garage opposite and bunk over the wall into the ground. That season Dartford finished in mid table and were able to renew the acquaintance of Gravesend and Northfleet, a game that had been built up in my imagination to rival England versus Scotland which despite a few scuffles and toilet rolls being thrown did not have the same amount of people sitting on the cross bars for my liking.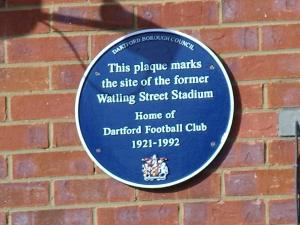 The following year I was deemed old enough to be taken to the likes of Upton Park and Highbury for my Saturday football fix, and so visits to Dartford became less and less. In 1979 the new Alliance Premier League was formed as the top division in Non League football. Dartford didn't make the initial cut (annoyingly Gravesend did), but the club did eventually reach the dizzy heights of third in this league in 1985. By this time I had discovered that girls were a viable substitute for football on a Saturday afternoon and my Dartford adventures drew to a close. I did visit a few more times, notably scaling the walls with friends in 1992 for a final kick about on the pitch before the ground was sold off.