Thursday, April 24, 2014
Check out some photos from the women's collection below, and in-depth interview with Style.Com. Virgil Abloh details leaving Pyrex Vision alone, how he keeps him self inspired and more. Read below.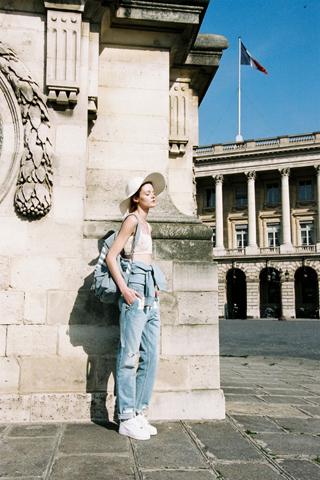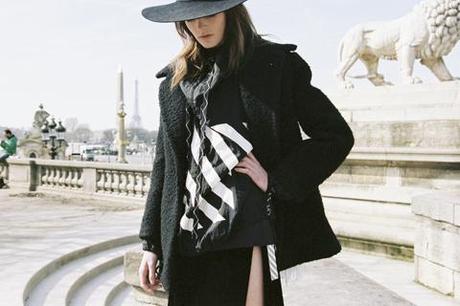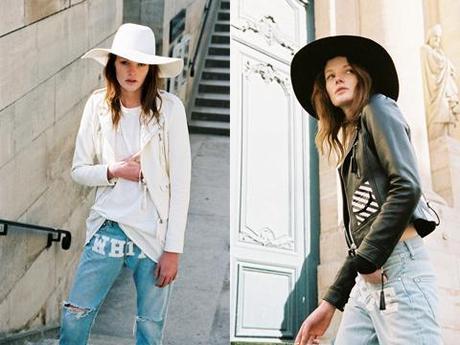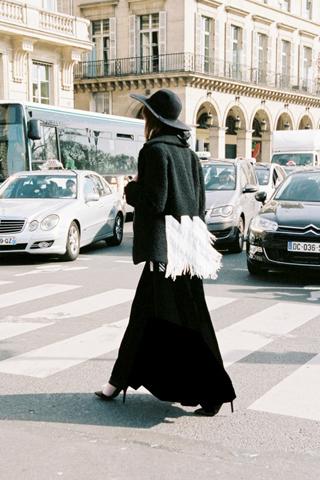 How has launching Off-White allowed you to evolve your point of view?
It's interesting now having the brand. It's kind of like an onion, rolling back the layers of what does Off-White mean. And Off-White to me just means "now." My reference points are: It's a culture, it's a lifestyle, it's kids. It's, like, same social circle—like, all my friends, I love their personal style. I think the main thing is that Off-White is a sort of attempt to represent youth culture and young lifestyle in the marketplace of established fashion brands. For me, it's a way to show the world—from my vantage point as a hip-hop kid—that image of fashion. I've designed for quite some time. I have a background in architecture, so I've always been trying to find an outlet for all these ideas.

What is your womenswear aesthetic?
I just want chic, plus Air Force 1s. My guy friends dress in more of a streetwear manner, and my girlfriends dress in Céline or Saint Laurent. It's very, like, Chateau Marmont, Café Select, The Mercer [Hotel], to [The] Westway, to 1 Oak, so I just merge all that. The most exciting part for me now is to just lay out this women's world, and I see it as more of a boyfriend-girlfriend type relationship. The title of the women's collection this season is "I Only Smoke When I Drink." It's a sentence that relates to that girl I imagine wearing the clothes.
Tell me about recently working with Sky Ferreira.
I've known Sky maybe for, like, a year and a half or so, just through being friends, kind of being in the same sort of circle of friends and creative kids, trying to make a mark. And it's very cool—she is such a talented person and such a muse. I was immediately drawn to that. We have tons of similar likes and whatnot, so it all sort of organically happened. It all started, I think, with the stage production for her, and organically that led into a twofold concept where it was like, let's merge the aesthetic of the stage with a fashion piece that kind of integrates it, kind of making it more 3-D. We both kind of naturally were inspired by Michael Jackson. [laughs] Everyone at some point tries to get out some Michael Jackson dream of their life.
Are you a fan of her music?
Super. I've always been a fan of many music genres outside of hip-hop and people's music that is supremely natural talent, and she is that. Like, her charisma, her stage presence, and her off-stage presence are very intriguing. She symbolizes a lot for her culture, and I think authenticity and rock music is a thing that's not common, so that's what makes me a fan of her. Her personality—that's what draws me to her. And her music, her sound, and what she puts into it is amazing to me.
Going back to the clothing, you referenced Martha Stewart and Montauk as influencing your first menswear collection, which was called "Youth Will Always Win." Are you keeping that look moving into next season?
[laughs] Yeah, I'm super into that still. That's a part of my personality, so I'm still on that sort of aesthetic—I'm not ready to move from it so fast. But I have a different theme building for the men's. It's all this Baja surf-inspired collection. It's very coastal still—it's more like Cali, and it's called "Moving Still" and it's about waves. It's a graphic story, but then it's also this sort of hippie, poncho-wearing, drug rug interpretation. In order for me to be happy with the season, there has to be a cool name to it. It has to have a theme, but then still the graphic-based aesthetic and prints on clothes.

Have you ever surfed?
I have. It's kind of one of those things where you try to learn a new hobby. I'm 33, so I like the idea of forcing yourself to learn something completely new.
In general, how do you stay inspired?
The zeitgeist is what inspires me, this sort of collective thought of trends and how they move to different cities—what kids in Paris are talking about or what music they're listening to. You find similarities in between Ultra and Café Select—the conversations are pretty similar.
What are your ultimate goals for Off-White as a fashion brand?
My goal is to transcend outside of the streetwear and surprise people in a way. I'm very honored to be selling at the stores that I'm at. These are the places that I love, so the goal for me is to intersect with a wider audience and just be a representative of what's happening in the street but have that square footage in the stores to kind of attract new fashion consumers.
Speaking of, do you ever miss doing Pyrex Vision, or were you just over that?
My whole idea from the beginning was that it was sort of a limited thing—I wasn't that into repeating and keep making that product. I have this whole obsession with collecting early Raf Simons pieces, and I like that the brand for myself, Pyrex, has a definitive start. I like that people who are fans of that can seek out and find that piece and it'll feel nostalgic in a way.
So much of your professional career has been about collaborating. How does it feel to express your own vision with Off-White?
That's mainly why I kind of wanted to start Off-White in this way, because I've been very collaborative in my whole design career, so I had to remind myself, like, what's my own favorite color? That's kind of where the name came from—just sort of a reminder to myself because it helps me in collaborative projects, too, like, this is my specific opinion without having to compromise it. I can paint a whole world, so to speak, so that's what Off-White is to me. I'm honored to have a platform to create in. I'm just fulfilling a trend that I see on the street and things—just fulfilling a niche to be a young, credible designer with valid ideas.
Off-White's Fall '14 women's collection ($180 to $2,000) will be available at select retailers including Browns, Colette, Selfridges, and The Webster. For more information, visit off—white.com.