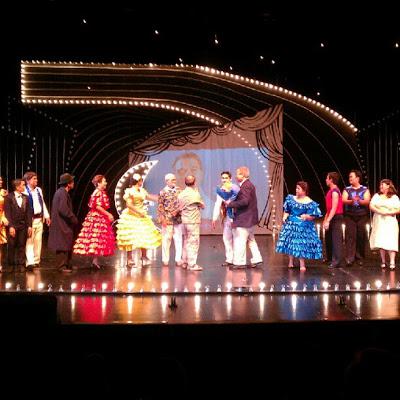 My rough impression after last night's opening: Needs a bit more work, but Tanghalang Pilipino's new production Stageshow does stout-hearted justice to the vigor, color and humanity of (playwright) Mario O'Hara's creative vision.
What it's all about:
After the successful run of its stage play, "Walang Kukurap", Tanghalang Pilipino pays tribute to the stage artists of yesteryears through its 3rd theater season offering called "Stageshow", a musical that runs October 10-21, 2012, 3 p.m. and 8 p.m., at the Cultural Center of the Philippines' Tanghalang Aurelio Tolentino (CCP Little Theater).
Written by the late director-actor-playwright Mario O'Hara, "Stageshow" is a poignant and emotionally charged play that focuses on the plight of a small group of dedicated Filipino artists during the twilight years of their careers. The play also offers a glimpse of a lost era in Philippine cultural history--the stage shows called "bodabil", and how the tendency to discard the old for the new often comes at the expensive and irreparable cost of losing one's soul.
Adapted from American vaudeville, "bodabil" was a popular entertainment genre from the 1920s to mid-'60s that spawned legendary talents such as Dolphy, Bayani Casimiro, Rogelio dela Rosa, German Moreno, Sylvia La Torre, Pilita Corrales, Elizabeth Ramsey, Oscar Obligacion, Chichay, the tandem of Pugo and Tugo, among others. It featured a hodgepodge of musical numbers, short-form comedy and dramatic skits, often staged inside the stately theater houses of old Manila.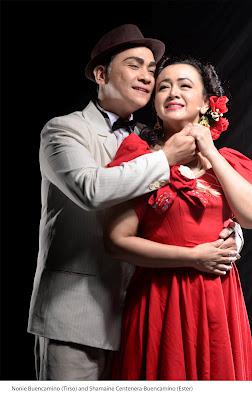 Mario O'Hara's "Stageshow" topbills the talent and versatility of TP veterans--stage/film/TV actors Shamaine Centenera-Buencamino and Nonie Buencamino, with Liesl Batucan and Roeder Camañag as alternates. Joining the cast are Angelina Kanapi, Mae Paner, May Bayot de Castro, Rayna Reyes, Rody Vera, Lou Veloso, Gie Onida, Pam Hundana, Gino Ramirez, Jonathan Tadioan, April Iñigo, Tara Cabaero, Hazel Maranan, Kaye Garcia, Agnes Sarreal, Anthony Falcon and Aaron Ching.
Director is Chris Millado.
Tanghalang Pilipino will also honor these artists in a "Gabi ng Pagkilala sa mga Beterano ng Stageshow" on October 13, 2012. The play is also an official entry to the National Theater Festival in November.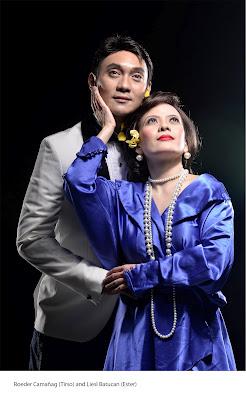 The production staff includes Jeffrey Hernandez (composer/arranger/musical director), Denisa Reyes (choreographer), Tuxqs Rutaquio (set designer), Brenda Fajardo (costume designer), Katsch Catoy (lights designer/technical director), TJ Ramos (sound engineer), King Catoy (videographer), Mia Bolaños (vocal coach), Tony Casimiro (tap dance instructor) and Yette Valenzuela (hair and make-up designer).
For ticket reservations, group sales, sponsorships, and special performances, call Cherry Bong Edralin 0917-7500107 / 0918-9593949, 832-1125 local 1620/1621.
Tickets are also available at Ticketworld at 891-9999 and at the CCP Box Office. Visit the official TP website at www.tanghalangpilipino.org.ph for other information.