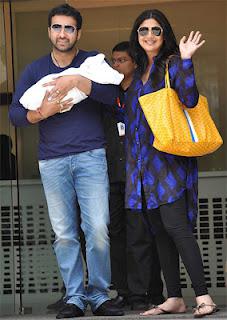 Bollywood actress Shilpa Shetty & her businessman husband Raj Kundra Friday took their newborn son home from the Hinduja Hospital here.
Shilpa, who delivered the infant boy Monday morning, looked casual & fresh as he walked out of the hospital around 12:30 p.m. He was accompanied by Kundra, who held the well-covered infant closely.
The 36-year-old was wearing a buttoned-down blue & black coloured tunic with leggings, while her husband was seen in a blue shirt with denim.
Shilpa looked healthy & happy & thanked the media for being there. He even blew a flying kiss, but refused to pose for shutterbugs when the media asked her to hold her first infant.
The newborn is yet to receive a name. It will be decided one time his maternal grandmother, Sunanda Shetty decides an alphabet.
Shilpa & Kundra tied the knot in 2009. This is Kundra's second infant - they has a daughter Deleena from ex-wife Kavita.