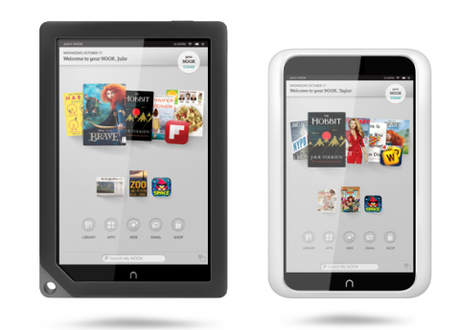 The Barnes & Noble Nook HD and HD+
The background
American books retailer Barnes & Noble is looking to take on Amazon, Google and Apple with the release of two new tablets versions of its e-reader, the Nook HD and the Nook HD+.
Nook HD: A 7-inch screen, boasting 1440 x 900 pixels resolution, the Nook HD runs its Android operating system off a 1.3 GHz processor. Its battery can stand up to 10.5 hours of reading and 9 hours of video; it's WiFi only. The device costs $199 for the 8 GB version, $229 for 16 GB.

Nook HD+: A bigger screen at 9 inches and a better resolution at 1920 x 1280 pixel resolution, the Nook HD + also boasts a faster processor at 1.5 GHz and is $269 for the 16 GB version and $299 for the 32 GB version.

Neither device has a camera.
The devices ship in late October in the US, with pre-orders available now, and at Christmas in the UK.
So, what's the word?
Better display, lighter – decent competitor
Chris Martin at PC Advisor was charmed by the Nook HD's higher resolution display and lightness, noting that it trumps both the Google Nexus and the Kindle Fire. Still, he said, it "doesn't look as sleek or as cool as the Nexus 7" and that users will have to get used to the "heavily customized" Ice Cream Sandwich software it runs on. And a lot of its success will hinge on what users can buy in the Nook Store. "At a glance, the Nook HD is a decent competitor for the Nexus 7 and Kindle Fire HD. The excellent screen will be the main lure but customers will have to be ok with using the customised Android user interface."
Great display, targeted towards moms and families
Nathan Olivarez-Giles at Wired was similarly impressed by the displays, saying that both tablets look "fantastic" and noting, "You can't go wrong with either of these tablets' displays." That's about it for review, but he did note that Barnes & Noble was consciously going after a specific demographic, women and families. "With that in mind, Barnes & Noble is introducing a new, simpler skin over the top of Google's Android 4.0 Ice Cream Sandwich operating system. One feature designed specifically for families is the ability to create up to six user profiles, complete with customizable settings that can block a child's profile from surfing the web, accessing e-mail, or even from viewing certain types of videos and books."
 A 'positive impression'
Tech hub CNET had only a brief hands on with the devices, but said that the superior display and lightness left their reviewer with a "positive impression". The jury is still out on whether the tablets are an improvement on the Kindle Fire or the Nexus 7, but, "One thing's for certain, Barnes & Noble is clearly serious about competing in the tablet space. Not only from a price perspective, but in performance as well. The company has taken the Nook Tablet concept and heavily iterated on it — much like Amazon did with the Fire HD. It's too early to tell, of course, which offers the better value, but that will depend on more than just specs and pricing. Luckily, I don't have to decide that today, as this will be a tough one."