True Blood's Alexander Skarsgård has a new film coming out called, "The East," which is set to play the Sundance Film Festival next month. Here's a first look photo at Alexander in the film with his fellow co-stars, Brit Marling and Ellen Page.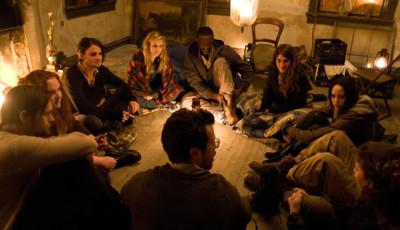 The film, written by Sound of My Voice duo Zal Batmanglij and Brit Marling centers on a character named Sarah Moss (Marling), a brilliant operative for an elite private intelligence firm whose top objective is to ruthlessly protect the interests of their A-list corporate clientele. She is assigned to go undercover to infiltrate an anarchist collective known for executing covert attacks upon major corporations. Living amongst them in an effort to get closer to their members, Sarah finds herself unexpectedly torn between two worlds as she starts to fall in love with the group's charismatic leader, finding her life and her priorities irrevocably changed.
Along with Marling the film co-stars Alexander Skarsgård, Ellen Page, Toby Kebbell, Shiloh Fernandez and Patricia Clarkson and will be released some time after its Sundance debut with its premiere set for January 20.
source: ropeofsilicon.com