True Blood's Ryan Kwanten is in the upcoming film, 7500.  Written by Craig Rosenberg (TV's "Lost") and produced by Taka Ichise (The Grudge) and Roy Lee (The Ring), 7500 follows a group of passengers who encounter what appears to be a supernatural force while on a trans-Pacific flight. John Middleton and Tracy McGrath are serving as executive producers.
In the photo below, we get our "first look" at Ryan in the film. Even though we cannot see what they're all looking at, it's a safe bet that everyone in this latest still from 7500 is face-to-face with something truly bad. I mean come on, have you ever seen Turtle from "Entourage" scared of anything?!?
Takashi Shimizu's 7500 also stars, Amy Smart, Johnathon Schaech, Leslie Bibb, Jamie Chung, Nicky Whelan, Christian Serratos, Scout Taylor-Compton, Jerry Ferrara, and Alex Frost.
Look for 7500 to be in theaters on August 31, 2012.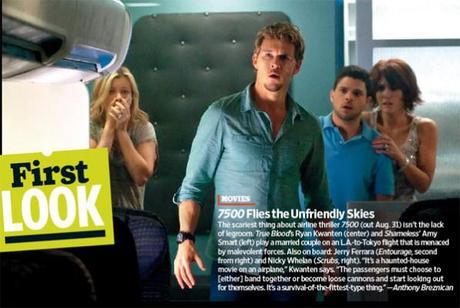 source: dreadcentral.com
photo source: Entertainment Weekly