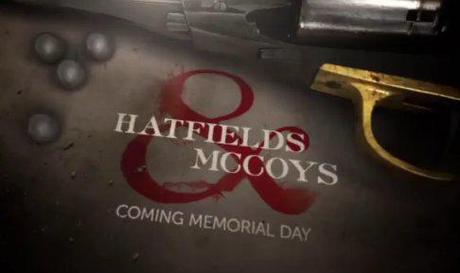 True Blood's Lindsay Pulsipher won't be changing into a werepanther, but she still plays a "country girl" in her new mini-series, "Hatfield & McCoy."  
Hatfield & McCoy follows the true life story of the two families who have hate for one another so strong it one fuels "a war between friends, neighbors, and outside forces, bringing two states to the brink of another Civil War." In the mini-series, Lindsay plays the part of Roseanna McCoy and it's a pretty important part. We know which side of the feud she is on because of her name, and here's what Wikipedia has to say about her character of Roseanna.
The feud escalated after Roseanna McCoy began a relationship (courtship) with Johnson "Johnse" Hatfield (Devil Anse's son), leaving her family to live with the Hatfields in West Virginia. Roseanna eventually returned to the McCoys, but when the couple tried to resume their relationship, Johnse Hatfield was arrested by the McCoys on outstanding Kentucky bootlegging warrants. He was freed from McCoy custody only when Roseanna made a desperate midnight ride to alert Devil Anse Hatfield, who organized a rescue party. The Hatfield party surrounded the McCoys and took Johnse back to West Virginia before he could be transported to the county seat, Pikeville, Kentucky, for justice the next day.

Despite what was seen as a betrayal of her family on his behalf, Johnse thereafter abandoned the pregnant Roseanna, marrying instead her cousin, Nancy McCoy, in 1881.

The escalation continued in 1882 when Ellison Hatfield, brother of Devil Anse Hatfield, was killed by three of Roseanna McCoy's young brothers: Tolbert, Pharmer, and Bud. Ellison was stabbed 26 times and finished off with a shot during an election day fight that took place in Kentucky. The McCoy brothers were initially arrested by Hatfield constables and were being taken to Pikeville for trial. Devil Anse Hatfield organized a large group of followers and cut off the constables with McCoy prisoners in tow before they reached Pikeville. The brothers were taken by force to West Virginia to await the fate of mortally wounded Ellison Hatfield. When Ellison finally died from his injuries, the McCoy brothers were themselves murdered in turn as the vendetta escalated. They were tied to pawpaw bushes, where each was shot numerous times. Their bodies were described as "bullet-riddled".
The mini-series is set to be aired starting on Memorial Day and the History Channel has released a sneak peek trailer at their forthcoming drama, the chronicle of one of the most infamous family rivalries in American history. Kevin Costner plays "Devil" Anse Hatfield and Bill Paxton plays Randall McCoy in the three-part mini-series from that hits cable this summer.
The first look at the Hatfield & McCoy mini-series is seen in the trailer below:
source: collider.com