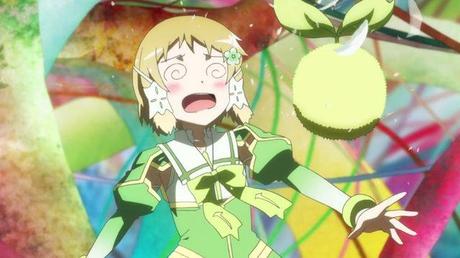 Am I a hero yet ?
When I read the summary I read about young girls being part of a hero club, I thought it would be just a matter of cute girls doing cute things and saving the world along the way.
And well, in a way it is.
It starts normally enough. I mean, you have your cute girls, they are right in the middle of club activities and these club activities seem pretty fun. I mean, they are playing with children and they do seem to feel great together and enjoy themselves a lot.
And then stuff happens.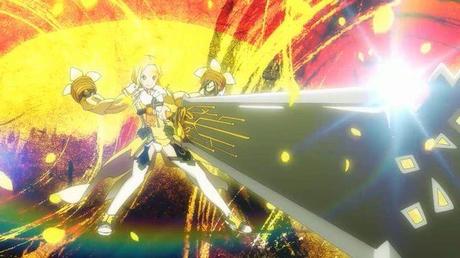 Stuff happens and our heroines are transported inside another world where they are supposed to fight against big bad villains and save the world.
And it was so sudden that if I hadn't been spoilt beforehand I would never have expected this.
I still don't know if I liked that or not. In a way it was very great because it was very unexpected. But at the same time I fail to see the purpose of the whole setting.
I'm a bit disappointed I guess. I don't dislike cute girls doing cute things kind of anime. I dont dislike magical girls either (bercause they do become magical girls), but I dislike things that can't decide what they are.
There is one thing I really, really, loved about YuYuYu. It's the girl in the wheelchair. For some reason she seems like the one with the most personality of the four already. Yet she's also the one who's the most discreet of them all.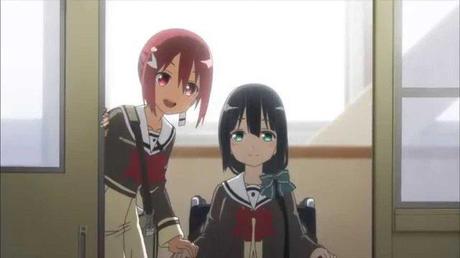 Sadly, I think it means there is a big flaw in the character development in that the characters aren't very fleshed out. I hope it will change, I am sure it will change, but it's a bit hard to get interested in this kind of anime if you don't feel at least a little bit attracted to the characters.
Everything else wasn't badly done. I really liked the magical girls outfits.
Sadly, I don't think there will be an episode 2 for me. Not yet at least.