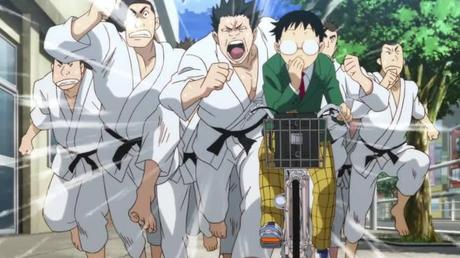 I feel like out of all the new sports anime that aired (again, "new" sports anime), Yowamushi Pedal, or shortened to Yowapeda, has the most potential to be the best sports anime airing this Fall season. But…it had a pedestrian first episode. I guess I have to explain.
Sakamichi Onoda is an otaku. During his time in middle school he's been in love with anime and manga and all that stuff, but he never let any of his classmates know. But now that he's in high school, he wants to change that, and with an anime club at the school, making friends and going to Akiba with people would be a cinch.
Except the club's been suspended. Well, so much for that idea I guess, time to join the Cycling club instead!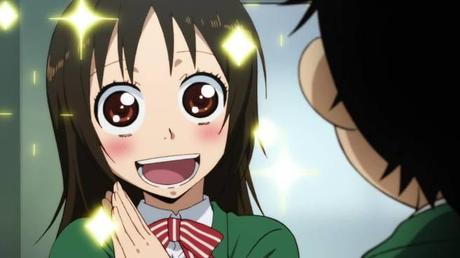 Well I thought that'd make her happy.
Ok, that last part I just made up since that didn't happen in this episode, but it's obvious he's going to join the club. He seems to be great at cycling, even if the reason why is silly. One of the main characters in the Cycling club alluded to needing an ace or someone else in their club early in the episode. And Onoda happened to be challenged by a cycling fiend, Shunsuke Imaizumi, at the end of the episode. I bet there were more flags to let us know that Onoda's gonna join, but these are the few I'm willing to write about. So all in all, the narrative is set, and now we just have to see how it progresses from here. So far, the characters are likable enough, the episode didn't feel poorly paced, and I feel like the show can only go up from here. That's saying a lot since you can sometimes tell how things can go from one episode.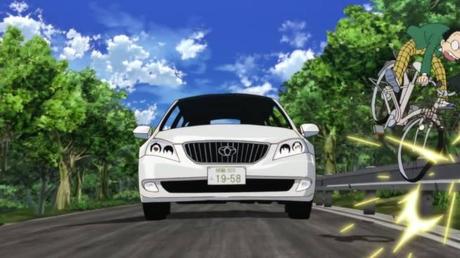 Well, I say all that, and feel like everything in this episode had nothing really special or good happen in it. This felt more like a set-up to what's to come in Yowapeda, since nothing overly remarkable or captivating actually took place. The character designs were ok, nothing to gloat about. The music didn't really stand out in this episode. The jokes for the most part felt mistimed, and I question whether or not this will have a good balance of comedy & serious cycling matches. Obviously I feel there's something in here that will make it good, so I plan on sticking with this, but if you feel like there's nothing else to Yowapeda, then chances are it's going to stay that way until the end, and that would be a waste of time.
This series is streaming on Crunchyroll.