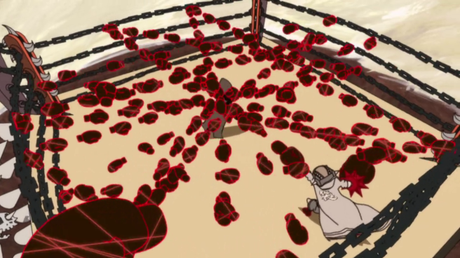 Kill la Kill is already a contender for having the best fight scenes in anime this year — not this season, this year. That's how awesome they were. Let me get into how awesome they were before I tell you some of the problems I did have with this anime.
I always feel like anime studios rarely take advantage of the fact that…they're anime. You know, instead of actually making fights remotely interesting or even inventive it's the same standard action over and over again, and no amount of huge blasts or high powered fists can change the fact that at least 10 or 20 other anime have already done it, and maybe done it better. In short, sticking to general conventions which, more often than not, makes it boring.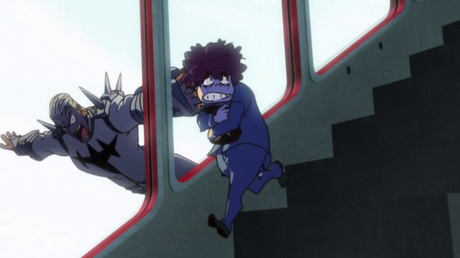 Wha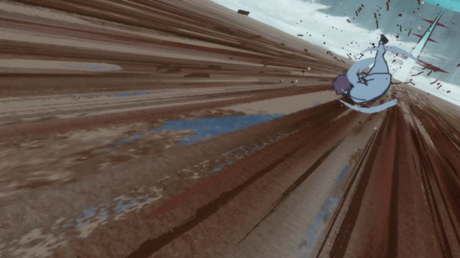 Wha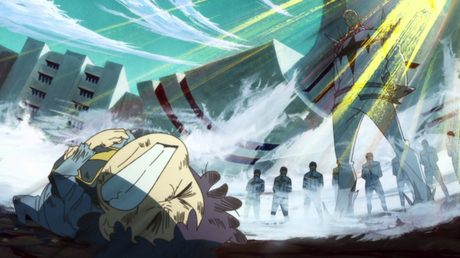 whaaaaaaa
The first 4 minutes of Kill la Kill is nothing short of amazing. Some mysterious spy infiltrates Honnouji Academy. A huge, intimidating dude named Ira Gamagoori walks into the classroom and exposes said spy. Cue a frantic pace where direction, 3D, and just being stylish for the sake of entertainment only could make me giggle with delight and make me go, "I want more!" And I did get more later, when Ryuko Matoi, the main character, ends up fighting a boxer dude with a bazillion punches that actually's creative, interesting, and a very good use of studio budget. This is what Trigger nailed in its first episode: the action, and I would definitely love to see more of it…
…Mostly because it beats talking about other stuff in the episode, because the talking here felt like a chore. Generally exposition is needed and we see that a lot in anime, but a decent part of the time it doesn't work. Kill la Kill not only canceled a bit of the momentum after it's high energy start, but for me I felt it bogged down the rest of the episode. Maybe it was because of its start that I just wanted more of that, or it's just getting the specifics out of the way so it can develop its characters later, but we get introduced to our main character, get introduced to toddlers with chainsaws and chains, get introduced to an airhead side character, then to the Student Council people, then Oh, fudge it, just get back to what's the best part about you!
…Guess I'm just a bit impatient aren't I?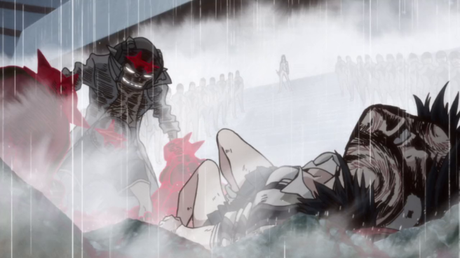 Give me more of this Trigger I mean ugh yipes that face!!!
Anyways, I would say it's not a bad start, but the talking needs to be a bit more interesting, and maybe less hurried? This episode was literally on crack. That worked most of the time when fighting occurred. My guess as to what's going to happen in the future is that there's more than one academy (since Ira surmised the spy was from Kobe, and I can only guess it's another school), after Ryuko and Student Council President Satsuki realize they shouldn't be enemies and kiss and make up they'll deal with any trouble makers, and we'll also get to know about the scissors, among other things this episode presented.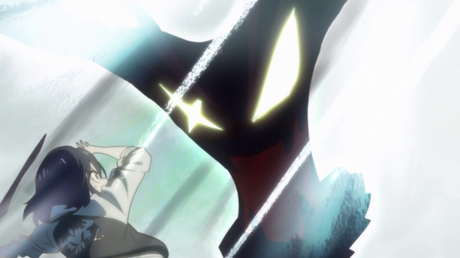 Yeah, I wouldn't want to meet that inside a garbage dump anytime soon myself you know.
This series is streaming on Crunchyroll.