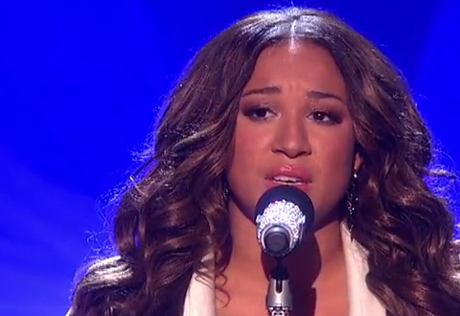 Melanie Amaro.
Melanie Amaro joined the ever-growing coterie of semi-famous contest-winning pop stars after scoring the $5 million recording contract on the final episode of the US version of hit British television show, The X Factor on Thursday night.
The 19-year-old singer from Sunrise, Florida, who was mentored by series creator Simon Cowell, beat out 30-year-old Columbus, Ohio native Josh Krajcik and 28-year-old Californian Chris Rene to become the US show's first ever winner. In addition to the $5 million recording contract, Amaro will also appear in a Pepsi commercial to air during the 2012 Super Bowl in January.
But does anyone care? The X Factor was one of this season's most hotly anticipated US shows, meant to be competition for Cowell's former show and Fox stablemate, American Idol. Cowell, who left judging American Idol and immediately began working on bringing The X Factor to US shores, optimistically predicted that the contest-style program would pull in 20 million viewers each episode. The show, however, only averaged around 11.1 million viewers each episode, less than half the viewership of American Idol, MTV reported, and those who did watch criticized the show's "over-the-top production" and "the awkwardness of host Steve Jones".
Still, the final, two-hour episode pulled out all the stops, featuring performances by teen superstar Justin Bieber, surprise guest Stevie Wonder, rapper 50 Cent, and British X Factor winner (and arguably the franchise's most successful graduate) Leona Lewis. And Amaro's win had all the trappings of a feel-good story, though whether that was by design or a naturally occurring phenomenon remains to be seen: She was eliminated from the show in one of the earlier rounds, but Cowell realized his mistake and, showing up at her home, asked her to come back to the show.
Amaro's winning duet with R. Kelly, "I Believe I Can Fly"

By the end of the series, Amaro was the one to beat: Her duet with R. Kelly on Wednesday night was, Josh Ridgway at Fox's Kansas City affiliate judged, the best – it even survived a glitter snow attack. "It did not affect her performance, though, which shows the sign of a true professional. No matter how much glitter gets in your mouth, you keep singing. It's the first rule of superstardom."
The X Factor USA has been signed for another season and Examiner.com has some advice for it: Get rid of host Jones, who is "about as dry as they come" and find someone as "all-American" as Idol host Ryan Seacrest; fix the "imperfect" voting process; and improve the "groups category".
Melanie Amaro's winning song

More on The X Factor

Little Mix win British X Factor, but show loses viewers
X Factor loses out to Strictly
The truth behind Cheryl Cole's US X Factor departure
More pop culture »