Yaay summers here!!!!!! In the summer, I am obsessed with
home grown tomatoes
.I grow them in my very own lil eden. They are the most delicious tomatoes in the whole world (
yes,Im exaggerating lol
) But they are BIG and juicy (
go on..... click here to see it
).  And I make this yummilicious Italian salad ....... Yes, its uber easy and delicious:) Try it out and let me know how you liked it..... but it tastes best with my home grown tomatoes :) Enjoy the summer!!!!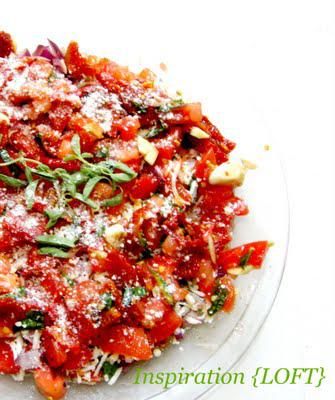 Ingredients
2 large tomatoes
2 tablespoons olive oil
ground black pepper to taste
1 Serrano pepper finely chopped
5 ounces mozzarella cheese crumbles
5 leaves fresh basil, torn into strips
 1 shallot finely chopped
salt to taste
Procedure
1. Chop tomatoes .Add olive oil, green chilli, chopped shallot  and sprinkle with black pepper and salt. Toss lightly and add the mozzarella cheese crumbles. Throw in some torn basil leaves:).Cover with plastic wrap, and refrigerate for half an hour before serving.