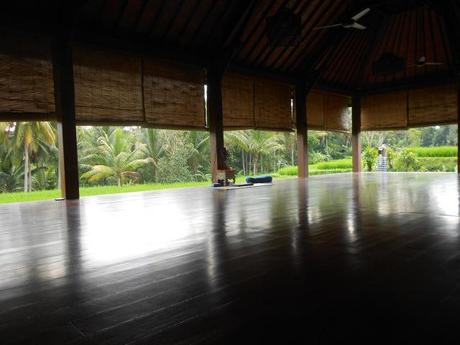 It's breathtaking.
We practiced a led moon sequence this morning to the sounds of ducks chatting in the rice paddy fields, shimmying palm leaves, and a gentle breeze brushing past us as we all moved, in sync, to Matthew's instructions.
I still can't quite believe I'm here, and have passed up a handful of invitations to explore Penestanan, the art village of Ubud,  in order to just sit here and absorb my surroundings.  I'm staying on site for a few days before moving into a small cottage with another student at the end of the week.  The rooms are ridiculously beautiful, with open air showers and bougainvillea climbing up the walls.  Chickens are scurrying about, one at my feet as I write this blog; swimming pool stretched out behind me.  You have to walk along winding paths through the paddy fields to get here, coconut trees stretching incomprehensibly high into the sky.  It's peaceful.  No roads and that incessant buzz of traffic.  Just fields and trees, and gentle, casual banter.
The group is larger than I expected.  More than 25 I think, and from all around the world – from Puerto Rico to New Zealand; Argentina to Slovakia, with varying degrees of ashtanga experience.  I'll comfortably inhabit the beginners' back row, once again.  If there's one thing I've learnt from the various workshops and intensives I've been to over the years – I'm no longer masochistic; but gentle with myself, and patient.  I'm happy with that – even if it does mean I have the occasional flash of insecurity about my lack of "progress" and whatever that actually means in terms of yoga… As Matthew pointed out to us this morning – Asana itself is a yogic contradiction.
I'm being drawn, right now at least, towards isolation and introspection.  My energy levels are pretty low, and I just want to feel the ground beneath me, listen to my breath, and take the time, however long that may be, to build myself back up again.
You never really know how much stress, tension, worry you've been carrying until you step away…and no matter how well you think you've been managing and coping, it is the stillness, the quiet, nature itself that brings it all to the surface – enables you to take a bit of a look at yourself and notice where the tensions have gathered.  The imprints they've made.  Physically – I can't seem to get enough sleep.  Every part of me is weighted down by this deep exhaustion.  Something that I must allow for, not feel I need to justify or feel guilty for.
Socially – I'm feeling shy.  I'm innately shy, but masked it for years by over-compensating on the socialising (and drinking) front.  Now, I'm learning to come to terms with my nature, and all of the awkwardness that entails.  Stilted conversations, and forced smiles.  Nervous eye movements and misplaced jokes.  Acute physical awareness….and not being able to just flow…. It's in my practice.  I could feel it in the stiffness in my joints, and the resistance I was feeling to surrendering.   It will take some time for me to trust, to feel comfortable, to let go…
Emotionally – I'm suffering some disconnect.  The happiness and gratitude is certainly beating strong, but my experience of it is just muffled ever-so-slightly by the jet lag and general discombobulation of adjusting to a new environment and coming to terms with the fact that I have, by some miracle, carved out a WHOLE THREE MONTHS to do nothing other than meditate and practice in a place that doesn't fall short of paradise.
With an afternoon of meditation and pranayama to look forward to, and however many days ahead to get deeper and deeper into this world I've grown to love so much, I have no doubt that whatever disconnect I feel in this moment will vanquish.