Just in case you didn't know it, Chicken Tikka Masala is actually British. There is some debate as to where it originated, but it's British! In fact, it is so British that it has probably knocked Fish and Chips and a few other stereotypical dishes off the scene.
O! the Roast Beef of Old England!
And O!" for old England's Roast Beef!
Now, Birmingham's Balti Association have applied for the EU Protected Food Names scheme which would make Birmingham Balti dishes a Traditional Speciality Guaranteed Product. For those not in the know, the Balti Cuisine comes from the Balti Triangle, the name given to the areas of Sparkbrook, Balsall Heath, Sparkhill and part of Moseley in Birmingham.
To repeat myself about all this EU food protection schemes:
European Union law uses various designations to protect the names of regional foods. There are three distinct regimes of geographical indications according to the law: Protected Designation of Origin (PDO), Protected Geographical Indication (PGI) and Traditional Speciality Guaranteed (TSG). The law which is enforced within the EU and being gradually expanded internationally via bilateral agreements between the EU and non-EU countries was designed to ensure that only products genuinely originating in that region are allowed in commerce identified by that name. This law came into force in 1992 with the purpose of the protecting the reputation of regional foods, promoting rural and agricultural activity, helping producers obtain a premium price for their authentic products, and eliminating the unfair competition and misleading of consumers by non-genuine products, which may be of inferior quality or of different flavor. These laws protect the names of wines, cheeses, hams, sausages, seafood, olives, beers, Balsamic vinegar and even regional breads, fruits, raw meats and vegetables.

So, Arbroath Smokies need to be made in Arbroath Scotland. For example, Roquefort cheese must be made from milk of a certain breed of sheep, and matured in the natural caves near the town of Roquefort-sur-Soulzon in the Aveyron region of France, where it is infected with the spores of a fungus (Penicillium roqueforti) that grows in these caves. In the case of the Cumberland sausage they now need to be made in what was the county of Cumberland, England, now part of Cumbria with lots of pepper and sage. They are traditionally very long (up to 50 cm), and sold rolled in a flat, circular coil but within western Cumbria they are more often served in long curved lengths.

The Protected Geographical Indication system is similar to Appellation systems throughout the world, such as the Appellation d'origine contrôlée (AOC) used in France, the Denominazione di origine controllata (DOC) used in Italy, the Denominação de Origem Controlada (DOC) used in Portugal, and the Denominación de Origen (DO) system used in Spain. In many cases, the EU PDO/PGI system works parallel with the system used in the specified country, and in some cases is subordinated to the appellation system that was already instituted, particularly with wine, for example, and in France (in particular) with cheese, for example Maroilles (as most others) has both PDO (AOP in French) and AOC classifications, but generally only the AOC classification will be shown.
So, what makes Balti Cuisine Special?
Mohammed Arif, owner of Adil Balti and Tandoori Restaurant, claims to be first man to introduce the Balti to Britain – after bringing the idea from Kashmir – when he opened his restaurant in 1977.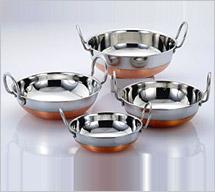 The Balti style of cooking is not only quicker, but also a lighter and healthier version of a traditional curry.A true Birmingham Balti must be served in the same thin steel bowl it is cooked in over a hot flame, as it is this "Balti" bowl (a proper balti looks like a small wok, it can also be called a karahi) that gives the dish its name. The Balti pioneers of the 70s and 80s also switched from using traditional ghee, which is high in saturated fat, to using vegetable oil.
While ghee is the traditional cooking ingredient used on the south Asian sub-continent, the use of vegetable oil in Birmingham Baltis is stipulated as a key unique feature in the Birmingham Balti Association's (BBA) application to EU.

It requires that all Birmingham Baltis must use vegetable oil instead of ghee.

Another requirement is for all meat to be "off-the-bone" to allow it to be cooked quickly over the hot flame.

This off-the-bone preparation of meat sets the Balti apart from the more traditional "on-the-bone" meat used in the "one-pot" style of cooking from the Indian subcontinent.

For a traditional Balti, all meat needs to be "off-the-bone" to allow it to be cooked quickly

While "one-pot" curries might take hours to cook all the ingredients, Balti chefs add meat and vegetables to the dish one ingredient at a time.

And freshness of ingredients is crucial to real Balti connoisseurs.

"Pre-prepared generic commercial curry pastes and powders are not used and not permitted" in any true Birmingham Balti, according to the BBA.

Baltis can vary from restaurant to restaurant as each Balti house prepares its own "restaurant sauce" to use as a base.
Should the Balti dish get protected name status, the dish would join Cumberland Sausages, Arbroath Smokies, Cornish Pasties, Stilton Cheese,among other foods.
So, although this protects the proprietors of the Balti Triangle restaurants, it does stop people in other parts of the world from enjoying balti dishes–short of a visit to Birmingham.
But will this mean that the Ali-Baba Balti House in Leamington Spa isn't a proper Balti Restaurant? Somehow, I think it does.
See also: