Welcome to another Tuesday celebrating bookish events, from Tuesday/First Chapter/Intros, hosted by Vicky from I'd Rather Be At The Beach who posts the opening paragraph (sometime two) of a book she decided to read based on the opening. Feel free to grab the banner and play along.
My opener this week has been chosen from what for me has been a long awaited book; The Wych Elm by Tana French.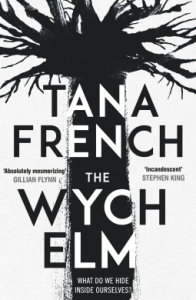 Blurb

'For me it all goes back to that night, the dark corroded hinge between before and after, the slipped-in sheet of trick glass that tints everything on one side in its own murky colours and leaves everything on the other luminous and untouchable.'

One night changes everything for Toby. He's always led a charmed life – until a brutal attack leaves him damaged and traumatised, unsure even of the person he used to be. He seeks refuge at his family's ancestral home, the Ivy House, filled with memories of wild-strawberry summers and teenage parties with his cousins.

But not long after Toby's arrival, a discovery is made: a skull, tucked neatly inside the old wych elm in the garden.

As detectives begin to close in, Toby is forced to examine everything he thought he knew about his family, his past, and himself. Amazon
~ ~ ~ ~ ~
First Chapter ~ First Paragraph ~ Intro
1
I've always considered myself to be, basically a lucky person. I don't mean I'm one of those people who pick multi-million-euro lotto numbers on a whim, or show up seconds too late for flights that go on to crash with no survivors. I just mean that I managed to go through life without any of the standard misfortunes you hear about. I wasn't abused as a kid, or bullied in school; my parents didn't split up or die or have any addiction problems or even get into any but the most trivial arguments; none of my girlfriends ever cheated on me, at least as far as I know, or dumped me in traumatic ways; I never got hit by a car or caught anything worse than chicken pox or even had to wear braces. Not that I spent much time thinking about this, but when it occurred to me, it was with a satisfying sense that everything was going exactly as it should.
~ ~ ~ ~ ~
Well I was already looking forward to this one but opening the cover and remembering just how quickly Tana French can grab my attention, even when scene-setting, merely underlined the point for me.
What do you think? Would you keep reading?