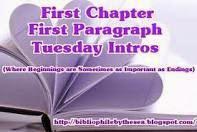 Welcome to another Tuesday celebrating bookish events, from Tuesday/First Chapter/Intros, hosted by Bibliophile by the Sea Every Tuesday, Diane at Bibliophile by the Sea posts the opening paragraph (sometime two) of a book she decided to read based on the opening. Feel free to grab the banner and play along.
My opening this week comes from Each Little Lie by Tom Bale which was published on 29 June 2017 and is currently available for the kindle at a bargain price.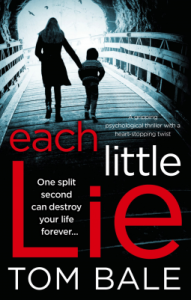 Blurb
One split second decision and you could lose your child forever…

When single mother Jen Cornish sees her neighbour's keys on the footpath outside her home, she has no idea the simple good deed of returning them will end in her fighting for her life – and that of her son, Charlie.

Soon, Jen is arrested for a crime committed in her neighbour's house, and the police have damning evidence. Jen wonders, is she losing her mind, or is she being framed?

Desperate to clear her name, Jen must untangle a chilling web of lies, and there's only one suspect on her list: her ex, Charlie's father. But someone is watching her every move – and it isn't just Jen who is in danger.

They're watching her child too.

Can Jen uncover the dark truth before it's too late? Amazon
~ ~ ~ ~ ~
First Chapter ~ First Paragraph ~ Intro
1
He'd crossed her path before, but today was different. There was a flash of light as the man hurried across the patch of grass at the front of her property; Jen caught the glint of sunlight on metal, the sense of something falling.
For most of August he'd been running later than normal, which made her wonder if his schedule, like hers, was influenced by the school holidays. As usual he was carrying a couple of his mysterious boxes, cradling them awkwardly in both arms, as if the contents were precious rather than heavy.
I think that's an opener that begs a few questions already so I'm looking forward to reading more. What about you?
Are you tempted to keep reading?