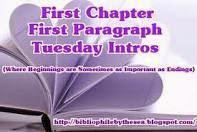 Welcome to another Tuesday celebrating bookish events, from Tuesday/First Chapter/Intros, hosted by Bibliophile by the Sea Every Tuesday, Diane at Bibliophile by the Sea posts the opening paragraph (sometime two) of a book she decided to read based on the opening. Feel free to grab the banner and play along.
This week I've chosen the opener from Want You Gone by Chris Brookmyre which will be published on 20 April 2017.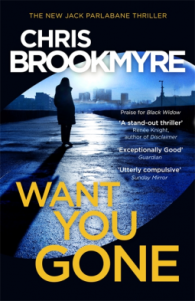 What if all your secrets were put online?
Sam Morpeth is growing up way too fast, left to fend for a younger sister with learning difficulties when their mother goes to prison and watching her dreams of university evaporate. But Sam learns what it is to be truly powerless when a stranger begins to blackmail her online, drawing her into a trap she may not escape alive.

Who would you turn to?
Meanwhile, reporter Jack Parlabane has finally got his career back on track, but his success has left him indebted to a volatile source on the wrong side of the law. Now that debt is being called in, and it could cost him everything.

What would you be capable of?
Thrown together by a common enemy, Sam and Jack are about to discover they have more in common than they realize – and might be each other's only hope. NetGalley
~ ~ ~ ~ ~
First Chapter ~ First Paragraph ~ Intro
THE BITTER END
He's never known such cold, such merciless, pervasive cold. It is enveloping him completely, like the embrace of a wraith, and he is being crushed in its grip.
His limbs are useless still twitching in spasms tiny echoes of the convulsions that rendered him helpless, and he can see his stilted, strangled breaths escaping from his mouth as tiny wisps.
~ ~ ~ ~ ~
Well that doesn't sound like much fun for whoever is cold…! But would you keep reading?