Yea believe it or not, 2021 had so much restrictions that we ended up eating so much at home. I think I am going to end 2021 with no BBQs, but at least I ticked buffet off my list. Last year, we also went to Sofitel Sentosa for their Champagne Brunch (read here about it)! It was then I fell in love with tranquil environment so this time round, I decided to bring my little one this time round for the Christmas Mega (Safe) Brunch
This is actually his first buffet and second time out on a dining setting. If you are our frequent reader, you would know how much of a dear he actually is on our recent trips out. This one didn't go very well (regrettably) cos I even planned to take some pictures with him after. Haha, but in retrospect, the first time we dined out he bawled throughout. So this was possibly an improvement cos he just wanted to explore.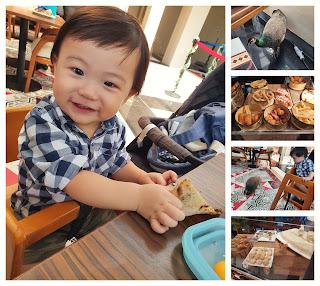 Can't really blame him cos Sofitel Sentosa is truly beautiful. It has this resort vibe and even have peacocks strutting around. Now that I have become a Mum, I have to admit that my world sort of revolves around this dude. I want to share with him my favorite places. I always feel that children sometimes can be left out during buffets, pinching food here and there from their parents. 
Was pretty stoked that Christmas Mega (Safe) Brunch got it covered. The kids even have a special corner for themselves with their favorite food such as pizza, nuggets, fries, sandwiches and fruit jellies. My boy really love their pizza and fries (look at his smile haha). When the peacock came, he got really excited and started tossing his sandwich to feed it. Oh manz. But still it is quite a wonderful experience and he was thoroughly thrilled.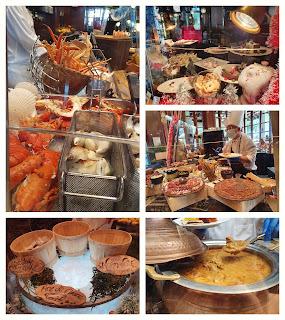 People usually go buffets for the variety and you will be happy to know that there is a seafood, Indian, pizza, Oriental and even counters for the cheese and pastry. (Note: The pastry corner is also a good place to find some yummy bread for your little ones) The brunch is currently priced at S$218 for 2 (unless you are going on the actual days) and $60 per child. 
If you have kids, you would know that time is of essence and sometimes you just don't have time to try all. My personal favourites are the Indian food, Foie Gras (yes there is Foie gras) served on the most delicious bread on Earth, Laksa, as well as the sweet treats. I ended up eating my kid's leftover pizza and it was delicious too.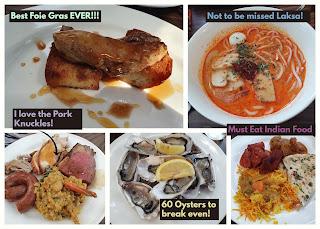 My BIL jokingly calculated that you just had to eat 50 oysters to break-even, which is quite doable. For the benefit of you folks, I have even included photos of the food that you shouldn't miss. There is also the xmas special cocktails (which I missed but you shouldn't). The brunch is from 12pm to 3pm, which gives you a good time to eat all you can. You should be pretty much done within 2 hours. 
For those with kids, outdoors is quite nice as there will be peacocks to catch. You might also want to sit further away from the pool because somehow the kids are all attracted towards it. Even my boy made a fuss wanting to go for a dip. Do dress for the occasion too because there are a lot of pretty spots to take nice photos!