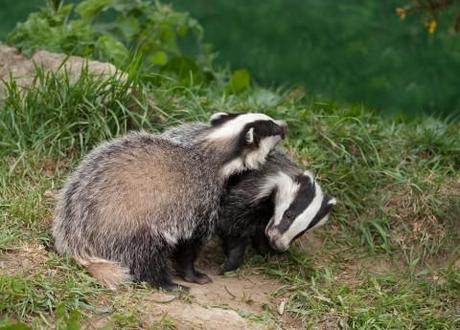 Badger cubs: Too cute to cull?
The background
Bad news for badgers: the first license allowing farmers in England to shoot the animals has been issued for Gloucestershire. The aim is to stop the spread of bovine tuberculosis, which has been linked to wild badgers.
"The science behind the culls is uncertain; a decade-long scientific trial of badger culling concluded there were only modest benefits," reported the BBC. What's more, the scientist whose work is being cited by the government in favour of the cull said the scheme was "crazy": "I would go down the vaccination and biosecurity route rather than this crazy scheme that may deliver very small advantage, may deliver none," Lord Krebs told the BBC.
But, under pressure from the farming community, the government is pushing ahead.
The Periscope Post reported on a badger cull pilot scheme back in 2011.
Time to go, badgers
"These days, with its humbug stripes and shambling gait, the badger has become the icon of the conservation movement," wrote Clive Aslet in The Telegraph. But the reality is that the effect of bovine TB on cattle herds can be financially devastating for farmers: "Government compensation does not always meet the market value of the animals slaughtered, and takes no account of loss of income." And alternatives to a cull, such as vaccination, are simply not feasible: "As yet, no oral vaccine for badgers has proved to work… It is impractical to vaccinate badgers by injection, because they cannot be trapped in sufficient numbers (young badgers, in particular, prefer to stay at home in the sett rather than venture abroad)."
The cull will not work
"Sadly, the coalition government's approach to bovine TB has been driven by short-term political calculation," wrote Mary Creagh in The Guardian. "Their 'big society badger cull', which issued the first license on Monday, carries some very real risks and will be bad for farmers, bad for taxpayers and bad for wildlife." According to Creagh, the move risks widening the spread of the disease, as infected areas move to escape the cull; and there's not evidence that culling will actually reduce bovine TB. What's more, the cost will be prohibitive: "The costs to farmers will exceed the benefits. Hardly a compelling case to sign up for the cull."
Are badgers really to blame for bovine TB?
Bovine TB is one of the biggest cattle killers in the UK, said a Channel 4 blog; but are badgers really to blame? "Remarkably, there is little hard, direct evidence that wild badgers do infect cows with TB, and if they do, we don't know precisely how the bacteria are passed from animal to animal."
Good news, badgers! Queen guitarist Brian May is on your side.
More in environment

New species of monkey discovered with enormous blue bottom
Vast reservoir of greenhouse gas discovered under Arctic
A bad day for badgers