Vinnie and I went out to the Fireplace Restaurant for dinner the other night. We bought a voucher off of Living Social and I have to say it was one of the best deals we have ever received. Our meal was wonderful!
Our Living Social deal got us 1 appetizer to share and 2 entrees. Going into the evening I was planning on ordering the burger because it won the People's Choice Best Burger in Boston! But, since we had the opportunity to order a more glamorous entree, I decided to save the burger for another time.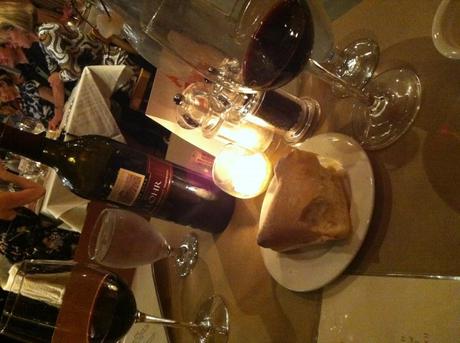 We did order a nice bottle of J.Lohr Cabernet to have throughout the meal. They served warmed potato bread immediately upon sitting. I always say that I am not going to eat any of the table bread when I go out to dinner, but that never happens. Go figure!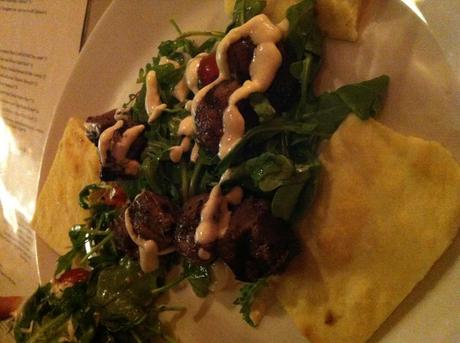 We shared the Steak Bites with Horseradish Cream, Arugula and Slivered Radish Salad on Garlic Crackers as an appetizer. It was very good. It was like mini steak tips over an arugula salad which is one of my favorite meals!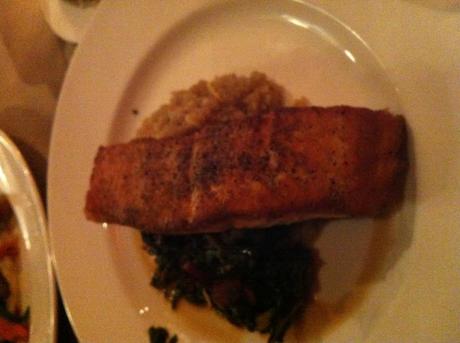 For dinner, I ordered the Cedar Plank Salmon with Bacon & Caper braised Chard
over Quinoa tossed with Scallion and Toasted Almonds. The salmon was cooked perfectly and was not too fishy tasting, which is always a concern of mine when I order fish! My meal was good… but Vinnie's meal was AMAZINGGGG.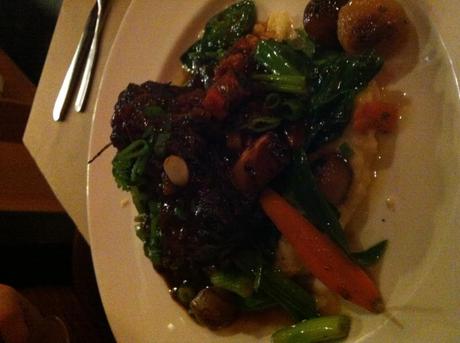 He ordered the Braised Beef Short Ribs w/ Cheesy Cornmeal Porridge,
Rosemary Roasted Cipollini Onions, Sautéed Spinach & Baby Carrots. Everything about his meal was so delicious. The gravy was perfect. It was so savory and had so many flavors! It was very good!
We decided to go all out and order dessert too. I was full and really didn't need it, but the Peanut Butter Fudge on Classic Chocolate Chip Cookie with Vanilla Ice Cream, Salted Caramel Sauce, Toasted Almonds & Hot Chocolate Fudge sounded too good to pass up.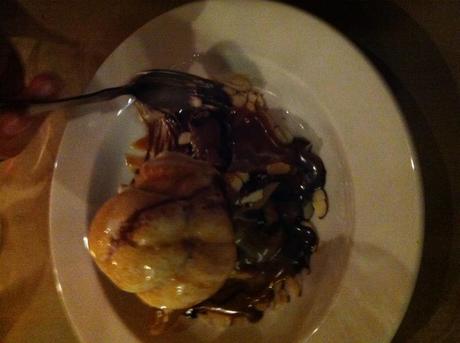 And it was! I could not put my spoon down. Decadent and Delicious.
Vinnie and I had a great dinner and will be going back to Fireplace for another meal, hopefully soon! Although, we might have to wait till the budget says we can! hehe. Either that or we need to start buying more LivingSocial deals!
Questions:
What is the best restaurant you have been to recently?
Do you buy LivingSocial Deals?