Hello everyone,
How's everyone doing?  I know it's mid-week and there's two more days of work to go.  Time seems to drag on Wednesday's.  That's why I always try to do something totally different out of my normal routine on Wednesday's, such as; going to lunch at a different restaurant every week or going to the bookstore and browsing through the interior design and food sections.  It just makes time go by so fast when you're not busy doing the same mundane things.  I highly recommend it, give your self some "me" time.   Speaking of me time, one of my other favorite things to do is sit by a crackling fire and read a book.
Fireplaces add a real touch of warmth to any interior room design.
It saddens me to think that cold weather is approaching. It's not too early, unfortunately, to start thinking about preparing your homes for chilly days and nights ahead. If you have a wood burning fireplace, I highly recommend getting your chimney cleaned. It's no fun when you haven't cleaned it and try using it for the first season of chilly weather and all of a sudden soot is coming down through the chimney.  I know what that feels like, cause it happened to us one year. It was quite a mess and clean up  took days.
Fireplaces are an ideal decorating accent and can be the focal point in any room. I recommend that you choose to position your fireplace in such way that it complements the space and existing furnishings. When deciding on your design, materials, and mantel make sure that they are an attention grabber but at the same time, don't look out of place.
They are so many beautifully designed fireplaces in the market that it's not an easy decision to make when trying to decide on the perfect one to compliment your home.
I am partial to wood burning fireplaces myself. Here are some decorating ideas to inspire you for  chilly days and nights ahead.
With built in fireplaces, you have the ability to design your mantle to create the look you want.
The neutral color of the furnishings and drapes in this room is a compliment to the wallpaper surrounding the fireplace  and adds such a burst of colour.  It is a nice twist on the traditional classic fireplaces.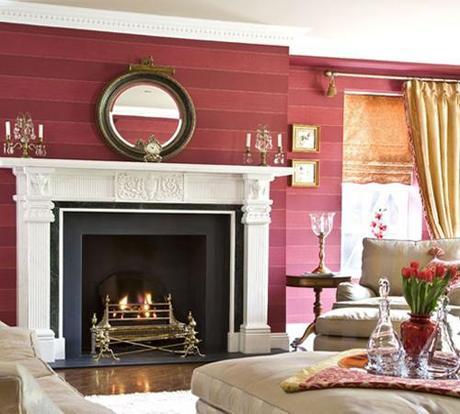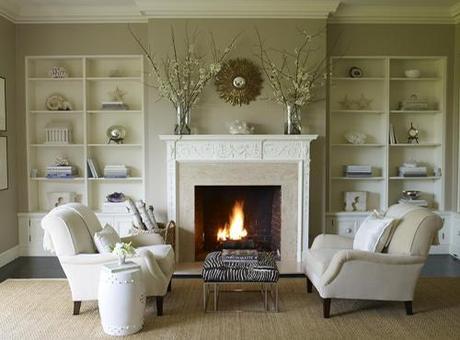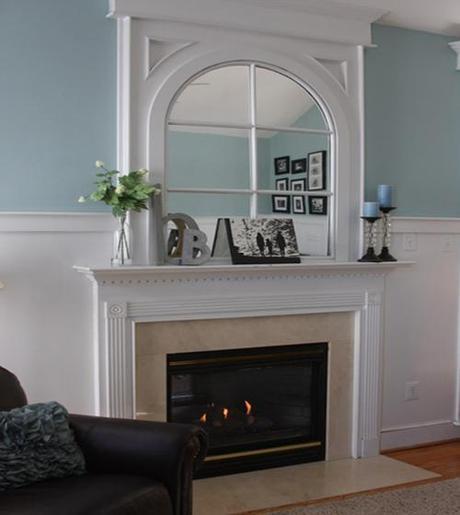 Since the fireplace is the focal point in the room.  Hang a mirror with a simple frame above the mantel.  It will not distract from the detailing of the fireplace or the color scheme of your room.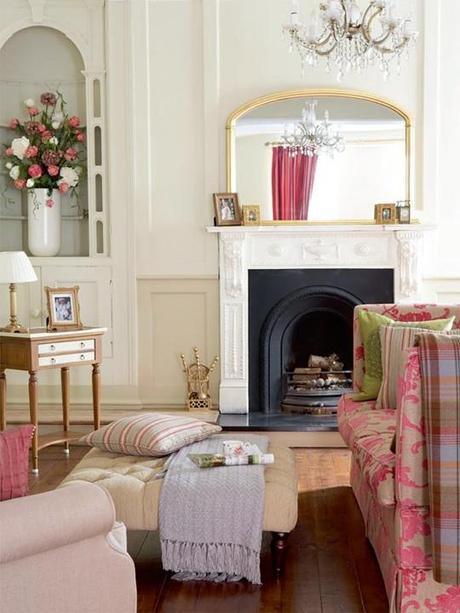 I like this one.  The idea of these two mirrors of different color frames and sizes like this.  Wow!  Love the way they are positioned to show the ceiling and crown moldings. Amazing!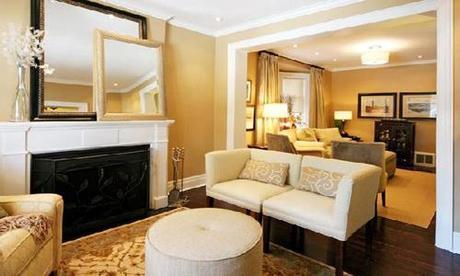 Do you like having your fireplace to give the room a cozy feeling? The rustic look might be for you. I like the color matching throughout.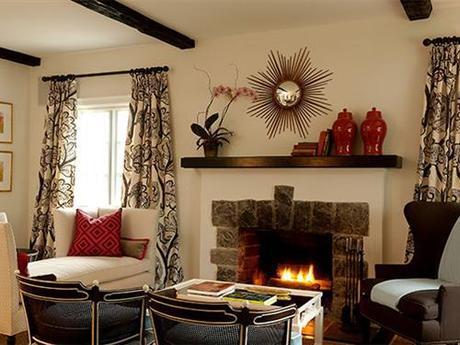 Another design idea to give your fireplace a quick modern look, paint the surroundings.  You've gone from traditional to modern with a simple addition of paint.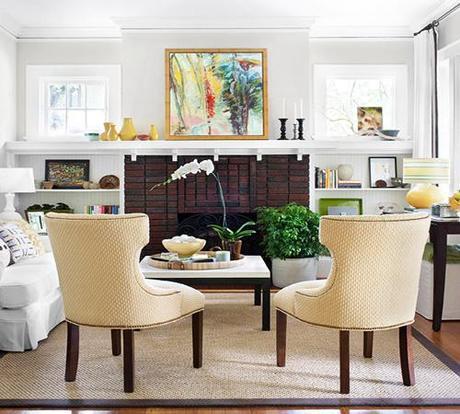 Hanging a piece of artwork, framed or unframed, centered above the mantel guarantees that your fireplace will get noticed.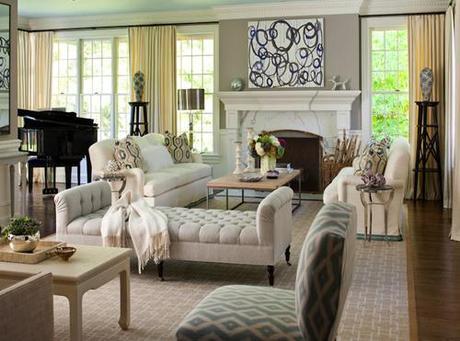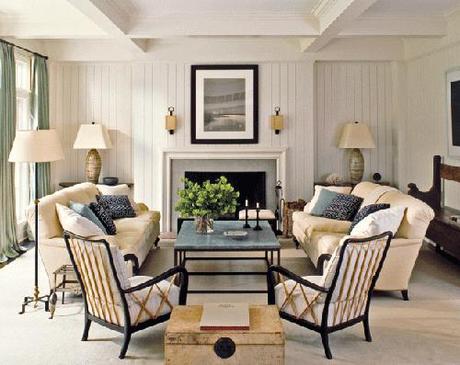 Designer tip, if you cannot find that perfect mantle, why not enlarge a favorite picture and hang above the fireplace.  This makes for a very dramatic finish, don't you think?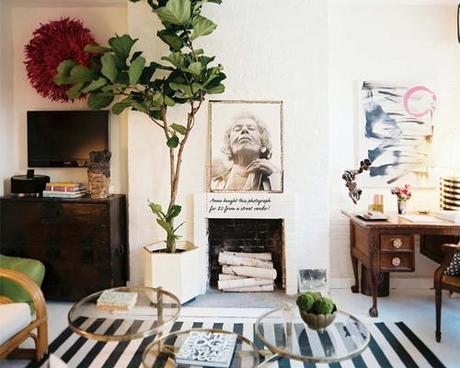 I like how this red sun mirror blends in with the rug in the room.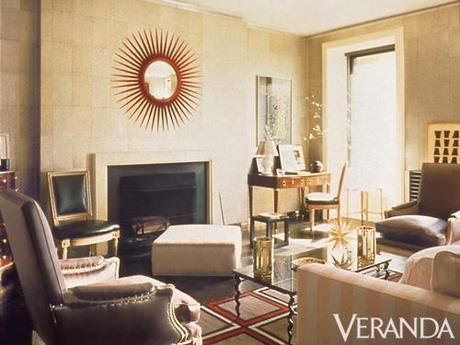 Wow!  How about putting a huge clock instead?  That will certainly be a conversation starter.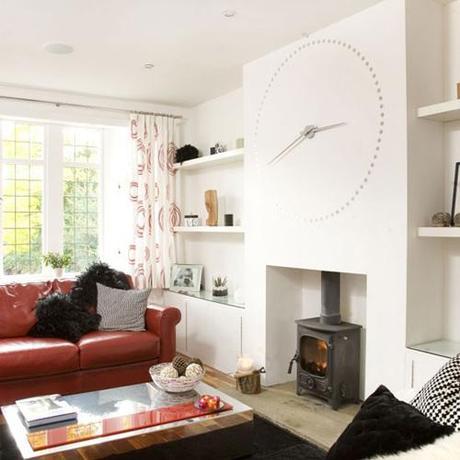 An alternative to painting your surroundings is to color coordinate with the rest of a room using tile.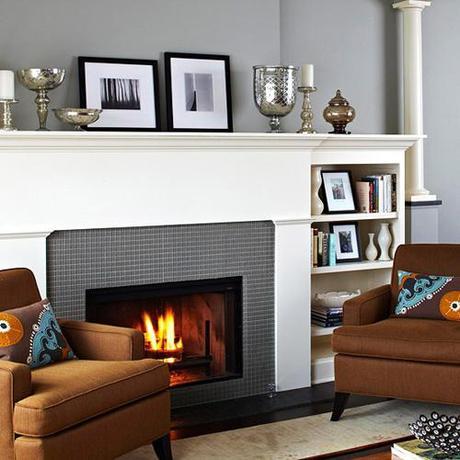 If you want embrace the minimalist look where you have more space on the floor and the fireplace is embedded into the wall creating a seamless look. I love the warm blue color. Very sleek!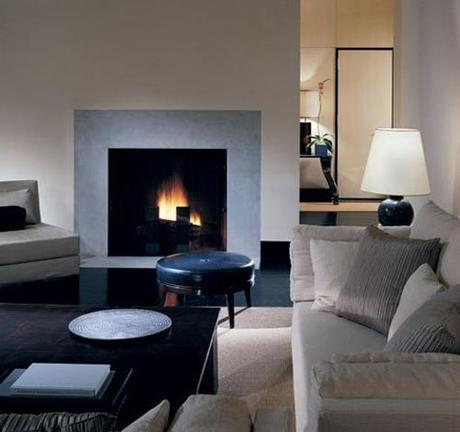 Finally, for the men, there's got to be the latest and greatest television above a fireplace.
So many choices to choose from.  Do you have a favorite design?
Although we are still experiencing the dog days of summer, I am in no rush to go and start buying anything "cold weather," but we can't ignore the fact that fall will be here before you know it.
Have a wonderful rest of your day.
Simone
PS: I did a post last week Wednesday on dog houses and asked you to vote on which you would prefer, with a donation going to the Humane Society and the American Society for the Prevention of Cruelty to Animals. It's a cause near and dear to me. I was an extremely pleased that ArchitectLinked shared my blog post on their site and the feedback has been so overwhelmingly complimentary.  Voting ends Friday, so you still have time to cast your ballot.  Thank you for helping animals in need, not just dogs.
You can cast your vote here:
Facebook