I received this book for free from NetGalley in exchange for an honest review. This does not affect my opinion of the book or the content of my review.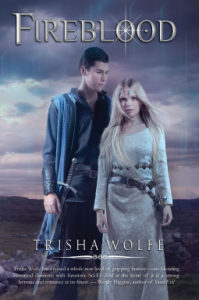 Fireblood
by Trisha Wolfe
Series:
Fireblood #1
Published by
Spencer Hill Press on December 17, 2013
Genres:
Fantasy, Fiction, Romance
Pages:
376
Source:
NetGalley
Goodreads

To save a kingdom, Zara must choose between a prince who could be the answer and a rising rebellion that threatens to take control.
When Zara Dane is chosen to marry Prince Sebastian Hart, son of the man who ordered her father's capture, Zara knows she must fight to save everything she loves from ruin.
Being betrothed to the prince means a life trapped behind the towering stone walls of the Camelot-forged realm. Under the watchful eye of the prince's first knight, Sir Devlan Capra, changing her future becomes difficult.
When an unlikely rebel reveals the truth about the deadly secrets that fuel King Hart's twisted world, Zara's path to rescue her father becomes clouded by deception. The Rebels clear her path by forcing Zara's hand with an ultimatum: sway Prince Sebastian to join the Rebels, convincing him of his father's evil nature, or they will take him out.
But Zara is uncertain about a future under the Rebels' command and where the prince's heart truly lies. She must decide who to trust, what to believe, and what she's truly fighting for before the king destroys all of Karm, including her heart.
I really enjoyed this book, there was plenty of action and intrigue to keep you turning the page. Though at times I did find the main character Zara to be a bit to self centered. And also unwilling to make a choice and commit to that choice, especially in the beginning. But as time moved on and she got involved with what was happening I came to really like Zara. Sebastian her betrothed was a character that I didn't really care for through out the book.  Oh he knew how to turn the charm on and say the right thing, but if you've dealt with a self centered narcissistic person you can see him as such from a mile away. With Devlin on the other hand it was a joy to see  him and Zara fall for each other. Fireblood is a fantastic YA book. It was thrilling, adventurous, romantic, and mysterious an absolutely great read.
  <><><""""><><""""><><""""><><><""""""><><><><""""><>0  Name: Email: We respect your email privacyEmail Marketing by AWeber 

Signing you up!
Never Miss out on a post again!!!


Sign Me Up!


We hate spam just as much as you

Signing you up!
Never Miss out on a post again!!!

Sign Up Via Facebook!


We hate spam just as much as you

Signing you up!
Never Miss out on a post again!!!

Click Here for One Click Sign Up!



We hate spam just as much as you