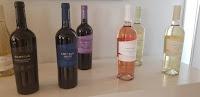 During our August trip to the Salento Peninsula, our hosts organized a tour and tasting at
Cantine Cantele
, one of the most well-known wineries in Puglia. This was an unintended coincidence based on our post
Grape Spotlight: Salice Salentino Negroamaro
and review of the
Cantele Riserva Salia Salento 2015
.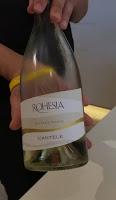 The Cantele family first arrived in the region when Giovanni Battista visited the area and sourced grapes to sell in northern Italy. When his wife Teresa Manara accompanied Giovanni on one of his many trips she fell in love with Lecce and resettled the family in Italy's "Florence of the South". Later, their son Augusto would study winemaking and along with his brother, Domenico and Giovanni would start Cantine Cantele in 1979. Initially, they worked as consultants, and in the 1990s Augusto purchased his first vineyards and began bottling wine with the Cantele family name.  Today the third generation -- two children each from Augusto and Domenico -- have taken over the enterprise's operation and their guiding theme stresses "innovation and tradition are not enemies".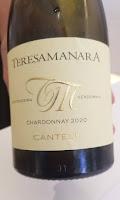 During our visit, we were lead through a typical tour of their large operation from the pressing area to indoor and outdoor fermenting and aging tanks to their barrel room.  Definitely state-of-the-art equipment. On their pressing area, we learned about their estate harvest techniques where, because of the extreme daytime heat, the harvest begins at 3am. New vines (40%) are picked by machines as they had been planted with enough working space in between with the remaining by hand.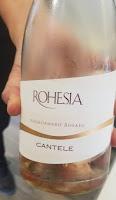 The grapes are then covered in dry ice and three types of pressure are applied. The first and second presses of each grape are fermented separately whereas the third press is sent to distilleries for grappa or the seeds for grape seed oil. The white wine grape juice is inoculated with vineyard yeast and fermented on their lees. They produce two versions of Chardonnay, one with only four months on lees and pulled for bottling and the second aged one year in barrel. The Negroamaro grapes dedicated to rosé wine are given longer skin contact resulting in a fuller and darker wine.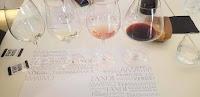 After the tour, we proceeded to the Cantele winery and Tasting Laboratory called
iSensi
. This facility opened seven years ago to showcase their wine and traditional Pugliese cuisine.  There we sampled four wines providing a general overview of their portfolio.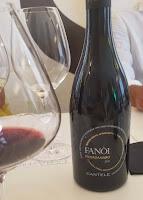 The first wine was their 
I.G.T. Salento Rohesia Malvasia Bianca
where the grapes sourced from Brindisi spent three months on lees in stainless steel. The fragrance was what you would expect from this grape, brilliant floral, followed by sizzling tropical and citrus flavors. Next came the 
Teresa Manara Chardonnay 2020
named after the family's matriarch. Also an I.G.T. Salento wine, the estate fruit is fermentation using the first crush and is aged in barrique on lees for 8 months. A full-bodied and delicious wine with green apples, pears, and creamy depth without a buttery finish. The Rohesia Negroamar Rosato is also full-bodied from saignée free-run juice aging three months on its lees. Rohesia is an ancient form of the name "Rose" and matches the color and strawberry flavor of the wine.  Fanoi means "Fire" and the
Fanoi Negroamaro 2015
 ($37) fired us up to lug a bottle home with us. It is produced only during exceptional years, from 60-year-old vines grown in a single vineyard. Expect multiple herbs and spices, a creamy palate, and a lingering approachable finish.  Excellent. 
Fortunately, some of Cantele's portfolio is available in the United States, most definitely through Total Wine.  If you can visit Lecce, great, if not, explore the region through these wines. Cheers.