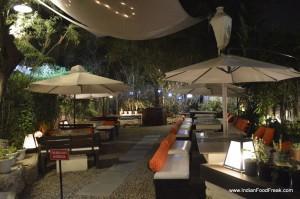 Mostly the places will either have a good ambience or good food. Maintaining that balance is a fine art which is not known by many. After a hiatus of food tasting for recently successfully concluded Food Freak Awards, I am off to a private dinner with my wife to Fio at Garden of Five Senses. Fio is a popular destination for romantic dinner in Delhi, however this is my maiden visit.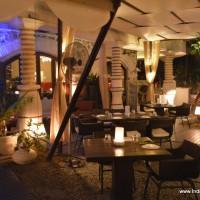 Located inside Garden of Five Senses at Mehrauli, the road passes through a narrow lane and for the first timers it may look like going to nowhere. However inside is where the action is. Peppy but not-so-loud music, mist fans and lovely breeze from coolers is soothing and still not on face to spoil the hair-do on a romantic date. Most of the seating of this 150-seater restaurant is unsurprisingly in open and divided into various sub sections like Accacia, Blue Garden, Bamboo Garden, Firangipani, and Courtyard named on various trees in that area.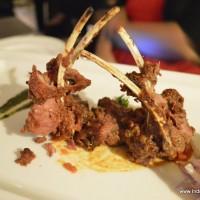 Having got ourselves seated at Accasia we hardly paid any attention to the live IPL 20-20 game that was being screened on a projector. Luckily the sound was set to minimum. Fio is currently hosting a Chill & Grill Festival and hence ordering some of the barbeque dishes was our natural choice. The Jungli Mutton Burra (Rs 875) was disappointing, completely dry and under-marinated. We looked at each other if Fio is also going the same way as most others. Things look up from there.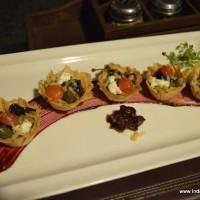 The Phylo Tazza (Rs 525) had lovely flavours of caramalised onion and goat cheese. The best part was the phyllo pastry. Completely flaky and complemented the flavours of the fillings. Ganderi Kebab (Rs775) was minced chicken kebabs on sugarcane stick. A person is supposed to lightly suck on the sugarcane stick while enjoying the mince kebabs. Just beware, do not bite into the stick, else on a romantic dinner you'll be looking for a place to throw the sugarcane waste.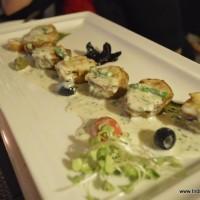 Cheese baby potato (Rs 525) may be a calorie bomb but it was addictive. Roasted baby potato filled with mascarpone cheese and lovely flavours of thyme and basil.
A romantic date is incomplete without wine. Fio has a small yet good collection of wine from most regions. I for a change try Fio's cocktails. My only instruction to the bartender, Vipin Joshi, was to get me whisky based cocktails.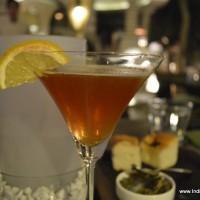 The first drink I was served was Scot Rouge; a fine balance of whisky, angustra bitters, Martini Rose, Lemon & Ice. I relooked at the simple looking Vipin whose drink spoke more than him. This built my confidence, and I asked another mix of his choice. This time he got Bar Passion with whisky, sambuca, passion fruit and lemon. It may be a popular drink but I was trying it for the first time and Sambuca with its star anise flavor was the star ingredient of this drink.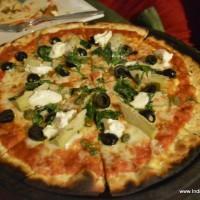 Before venturing into the main course we ordered a Garlic spinach, Mascarpone and Artichoke pizza (Rs 745) from Fio's wood fired oven. I haven't seen too many outlets using expensive Farina flour for the base. Fio was using it and it reflected in the taste. My only wish that the sauce was spread a little more to cover the entire diameter of this thin crust pizza.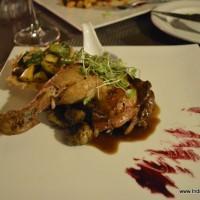 The main course was the grilled pork belly (1095) and char grilled chicken leg (Rs 925). The pork belly was great and well complemented with the orange sauce. It could still do with a little crisp skin on the outside. The chicken was absolutely brilliant. Crispy, juicy and cooked to perfection! If all chicken can be cooked this way, it will make any chicken die of happiness.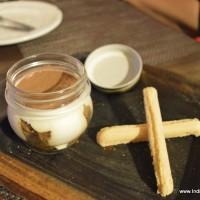 Tiramisu (Rs 415) may not be authentic with missing flavours of Kahlua but people with sweet tooth will like it. Fio is overall a good choice for a cosy date. Just remember not to wear a short dress if you are planning to sit in open, unless you want Odomos to overpower your favorite perfume.
Ratings (out of 5):
Food: 3.5 | Drinks: 4.5 | Ambience: 4.0 | Service: 3.0 | Overall: 3.5
Meal for two: Rs. 3000 | Alcohol: Yes | Credit Card: Yes | Timings: 12.30PM-4pm
Address: Fio, Gate No1, Garden of Five Senses, Mehrauli, New Delhi | Telephone: 011-29536309