On a visit to a reindeer farm in Iso-Syote, I expected to see reindeer and learn more about reindeer farming, which I did.  What I didn't expect was to pick up some Finnish cooking methods – let alone some rather…um..shall we say unique tips? But that's just what I learned from Juha Virkkunen, an eccentric and fascinating guide/teacher/reindeer farmer/musician who was serving as all three on the day I toured his reindeer farm: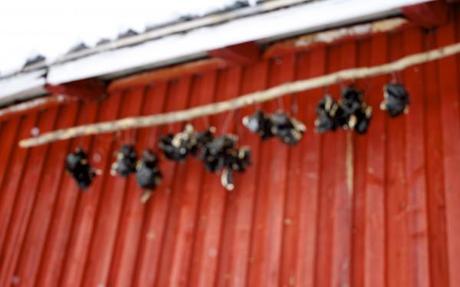 Not surprisingly reindeer is on the menu at a reindeer farm, although Juha does have his favorites which will not end up on a dinner plate, , and yes a couple of them are named Rudolf.  What did surprise me were all the reindeer hearts hanging from the rafters like wind chimes.  They were set out to dry for 6 weeks. Juha says reindeer hearts taste like jerky.   I'll have to take his word for it since I wasn't about to try it!  When preparing your own reindeer hearts note these tips from Juha:  add sugar to keep the meat from becoming too tough and add pepper so that the meat keeps its' color – and the flies away!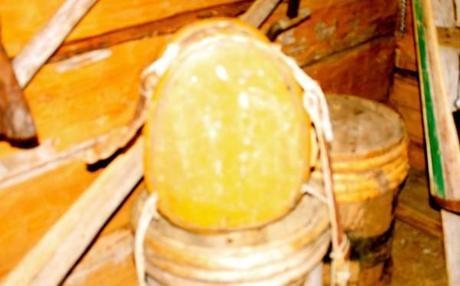 Included in my tour of the reindeer farm was an old barn containing various artifacts, a museum of sorts.  The last thing I expected to learn in a make-shift museum/barn was cooking tips.  But among the items was the above container which was used to store buttermilk until it was ready.  There's nothing special about that until you realize how the milk was churned.  Rather than doing it by hand which would be very time consuming, a frog (poor frog) was placed in the container for a month and its' legs churned the buttermilk.  Juha assured me that after a month the frog was still (miraculously) alive and would then be set free.  I'm thinking that frog would be swearing of buttermilk for the rest of his life!  Juha did admit though that he didn't know anybody that had used this technique since the 1960's – for which I'm sure the frogs of Finland are eternally grateful!
So what do you think?  Will you be adding any of these Finnish cooking techniques into your own cooking repertoire?  Personally, I'm going to stick with drinking like a Finn!
 Visit Juha's Reindeer Farm:
Juha's reindeer farm is located near Iso-Syote, tours can be organized through Hotel Iso-Syote
Tours available by appointment only
It was one of the most unique and random tours I've ever been on, mostly due to Juha.  He kindly invited us into his house for coffee and cake after our tour as well, where he then serenaded us!
You May Also Be Interested in:
Dog sledding  or snowmobiling, both in nearby Iso-Syote
Ice fishing or snowshoeing in Oulu
Note:  I was a gust at Juha's reindeer farm.  As always, all opinions expressed remain my own.