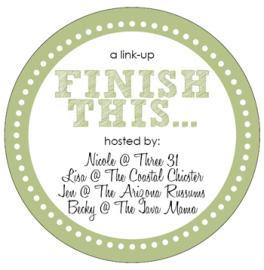 I had every intention of posting this yesterday. However, I had a busy day at work and decided to tackle some cleaning! It's official… my bedroom actually has a floor. Who knew? I hate to admit that after coming home from college (*cough* back in May) I let my organization/cleaning skills fall by the wayside. I had no where to put all the clothes, furniture, and other decor from college. However, my room is back to normal. My next mission is completing my home office. Sorry, Ryan (my big brother), but I took over your old room and it is now my home office… and partially a storage room for college dorm room accessories, haha!
Anyway, back to the blog. Finish This Week 42. The prompt for this week is below!
It took me a long time to realize…
that not everything will work out as you plan. I am the type of person who, before an event, test, meet up, what have you, I make a solid plan. I have no spontaneity when it comes to most things. Occasionally I make spur of the moment decisions, but not often. After many failed plans and disappointments in life, I am beginning to learn that not everything will work out exactly as we plan. A plan is meant to guide you… not dictate your every move. If only I could have realized this sooner! ;)
I surround myself with…
family, friends, my pups, encouragement, motivation, and chocolate!
This was a shorter Finish This post, but I hope you enjoyed it regardless. Below are the prompts for next week (which I see is Halloween themed… YAY)! Thanks for reading and join in on the fun next week!
Prompts for WEEK 43– October 29
As a kid, my favorite Halloween costume was
As an adult, I celebrate Halloween by
My favorite candy is