I hope everyone is having a great week and is ready for a Giants win today!!! Fingers crossed! Also, today, 10.11.12, is my cousin's wedding day! Congrats to Bean and his new wife!! Today's fill in the blank idea was stolen from
Lisa
.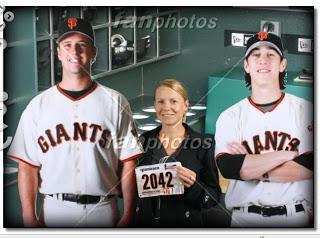 My friends Buster and Timmy
I wish
I could get up earlier and run, but I really like that extra sleep in the morning!
I want
an apron for Christmas.
I always
eat the same breakfast every day. Oatmeal with fruit and nuts.
I need
to find a costume for Halloween. 
I feel
tired. I don't have a free weekend until....um....
I think
that as much as I like the farm box idea, I can buy my own veggies for a cheaper price.
I ask
lots of questions about logistics. It sometimes annoys people.
I hear
rain. It's starting to rain! Maybe I need some of these?
I smell
greens and vinegar. It's because I tried to make it so my greens wouldn't be so bitter, but all it did was stink up the house.
I ponder
the
disappearance of socks, and time, and that bag of dried coconut (that I just scarfed down).
I seek
new pumpkin recipes.
(
here is one good one
)
I play
Ms Pacman like a 12 year old boy. Bring it on!
I prefer
mountains over pretty much anything else. The ocean is not far behind though!
I wonder
where I will be in 10 years, mentally and physically (and literally).
I mean
to travel again soon.
The question is not if, but when and where!?
I never
have watched
a lot of movies that everyone else has seen.
I plan
on having a house on the beach someday.
I hope
to get a new phone soon, but I am not sure if I want to switch from the iPhone to something else or to just get a new iPhone.
These are difficult decisions, folks.
I worry
about not spending enough time with people before they are gone.
I dislike
fakers/posers. Be yourself. People may not like it, but at least it's honest.
I struggle
with feeling guilty when I have to say no to something that I really would like to say yes to.
What do you struggle with? What are your hopes and your worries?