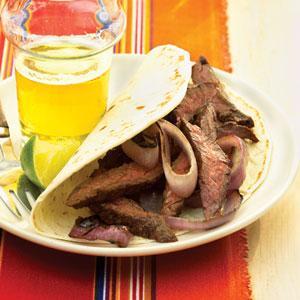 I used this great recipe from My recipes as a jumping off point.
As written the marinade is for about 2 -2.5 pounds of meat:
1 12-oz. bottle or can beer *
1/4 cup fresh orange juice
1/4 cup fresh lime juice
2 to 3 tbsp. chipotle hot sauce, such as Tabasco Chipotle Pepper Sauce, plus more for serving **
2 tablespoons minced garlic

$

Bier Battered addition: Crushed and beat up fresh Cilantro to get the oils and flavors out.
* I went with an American Hefe (Widmer Brother's: Brotha from another Motha)to play it safe originally.  The store did not have any single bottles of Pilners (my first choice) and I figured lighter would be better for the first go, so I passed on any of the Amber Lagers they had.  Thinking about it though I think a Stout or Porter would work out well, and will most likely be the beer i use the next time I make this.
** I used the amount they listed.  Going with my personal favorite El Yukateco as well as a few dashes of Cholula for good measure.  If you are a fan of some spice or at least those flavors  use a lot more. or dump in a small can of Chipotle pepper in adobo.
To added to the patted dry meat before grilling (I would be very heavy-handed on the dry rub personally)
1 1/2 tablespoons coarse kosher salt
1 1/2 teaspoons ground cumin
Bier Battered additions: Dash of Adobo, and seasoned salt – but use whatever you enjoy flavor wise.