In Chenni, many of the vehicle drivers prefer to take chances – most would not wear helmets.

 

The Traffic cop would lay waiting after the signal and would suddenly scoop on, to stop, check for documents and impose a fine.

 

There was the system of Cops sending the offenders to mobile / fixed Courts.

 

Recently, utilizing the technology Chennai City Traffic Police (CCTP) introduced e-challan system.

 

The system, used for imposing spot fines, was inaugurated on June 28.

 

There are reports that the revenue collection through fine has gone up hugely.

 

The Police state that the aim was not revenue generation through fine but reducing the offences that have the potential to harm other road-users.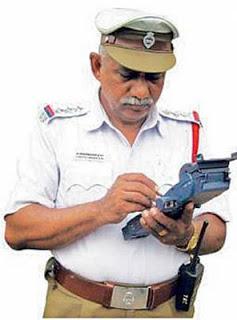 Upon stopping the vehicle on road, the Cop would check for RC of the vehicle to check its genuineness, road tax, Fitness certificate, Driving license as also would ask for Insurance.

 

Those who do not possess a valid Insurance certificate would be fined !

   .....
Those new to Insurance field, would not have heard much of 'Third Party Insurance'.

  

Presently, Insurers have only Liability only Policy and Package policy. You sure know of the legislation Motor Vehicles Act which makes it mandatory that every vehicle should have a valid insurance.

 
Chapter XI of MV Act 1988 deals with 'Insurance of Motor vehicles against Third Party Risks'.

  

Sec 145 provides definitions for : Authorised Insurer, Certificate of Insurance, Liability, Policy, property, reciprocating country and third party which shall include the Government.

 

Sec 146 specifies "Necessity for insurance against third party risk".- which states that "No person shall use, except as a passenger, or cause or allow any other person to use, a motor vehicle in a public, unless there is in force in relation to the use of the vehicle by that person or that other person, as the case may be, a policy of insurance complying with the requirements of this Chapter".

 

The Act further specifies that in the case of a vehicle carrying, or meant to carry, dangerous or hazardous goods, there shall also be a policy of insurance under the Public Liability Insurance Act, 1991.
In common parlance, the Act only cover – i.e., the policy providing coverage as specified in the Act is known as 'Third party Insurance' which in effect is a liability cover.

 

The reference is so, for the beneficiary could only be someone other than the two contracting parties involved in the Insurance contract.

 

This was intended to be a beneficial legislation where the road user gets compensation in respect of injuries (or death) sustained arising out of usage of a Motor vehicle in a public place.

 

The coverage against liability to third parties arising out of usage of motor vehicle in a public place cannot be overridden by any clause in the Policy.

 

In effect the compensation is made direct (through Courts) and does not pass through the policy holder.

 
In earlier days, in UK,

 

there was no law of compulsory insurance and in those circumstances, any person injured would have had to bring a suit of action against the motor owner for recovery of damages.

 

This certainly would have been much more cumbersome besides, if the owner had no means to pay, the injured person would be deprived of compensation.

 

So over a period time, legislation had evolved and perhaps 'the Third Parties' Rights Against Insurance Act,1930' enactment was a precursor to the modern version of the Motor Vehicles Act.

 

The MV Act provides only limited scope for the Insurer to defend

 

mostly restricted to the statutory defense available under Law.

 
With this lengthy background, one would realize the need for a valid Insurance Certificate and the need for the same.

 

If you wonder whether the need is to have insurance or to provide of proof of having one ? – do read on this report on Virginia.
Virginia
is a U.S. state on the Atlantic Coast of the Southern United States. Virginia is nicknamed the "Old Dominion" and sometimes the "Mother of Presidents"
after the eight U.S. presidents born there. There are reports that motorists in Virginia are being ticketed and convicted of a violation that is not a crime under state law: driving without proof of insurance.

 

There are reports of drivers being imposed hefty fines and court costs for failing to produce an insurance card during a traffic stop.
State law requires motorists to either carry liability insurance or pay a $500 uninsured motor vehicle fee to the Department of Motor Vehicles. Anyone who fails to do so, or who lies to the DMV about having insurance, can be convicted of a misdemeanor punishable by a $500 fine – but the statute says nothing about driving without proof of insurance, several lawyers confirmed.

 

Some Virginia police officers, however, cite that statute in charging drivers with failure to have proof of insurance.
Whilst local police have fined drivers for "no proof of insurance" ;
Attorneys contend that it does not criminalize failure to have an insurance card in your car.

 

It is contended that punishment for failing to have proof of insurance is not law and driving so, is not illegal.
One legal authority was quoted as stating failure to have proof of insurance while driving is not illegal, rather the offense is having an uninsured motor vehicle and not paying the uninsured motorist fee of $500 per year.

 

Do you perceive any fine difference here ?
It is stated that requiring drivers to present either proof of insurance or proof of payment of the uninsured vehicle fee would go a long way to clear up the confusion. The General Assembly has considered such a mandate at least three times, but has never passed it.
With regards – S. Sampathkumar
The latter part of the post is with inputs from : http://www.claimsjournal.com/news/east/2011/12/28/197682.htm
DEc. 29, 2011.