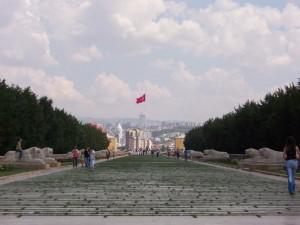 (Photo: Brent Ruth)
On October 29, all eyes in Istanbul will look to the sky as more than 48,000 fireworks light up the night in celebration of the 88th anniversary of the founding of the Turkish Republic.
In the same way, Turkey's success as the region's most democratic Muslim-majority state and largest, most diversified economy has put all eyes on it as others in the Middle East and North Africa struggle to ensure that they too will have an opportunity to determine their own democratic course.
Undoubtedly, Turkey is much better off than its neighbors, but it would be shortsighted to ignore the work that still needs to be done to secure a genuine democracy and sustainable economic growth.
Structural reforms adopted by Turkey in the early 2000s reinforced macroeconomic stability, accelerated development and opened the way for small- and medium-sized enterprises in Anatolian provinces. This economic stability, as well as other reforms in compliance with European Union (EU) membership criteria, has led many to regard Turkey as a model of democracy for the Middle East. Proponents of this thought can provide plenty of support from this past year alone:
In June, Turkey held

free

and

fair

elections; an event that has become routine for Turks but is almost unheard of elsewhere in the region. Voters gave the Justice and Development Party (AKP) and its leader, Recep Tayyip Erdogan, a third term in power but prevented it from reaching a two thirds majority in the Assembly. As a result, a much needed constitutional referendum is now more likely to incorporate several philosophical viewpoints beyond those of AKP.
In July, the unprecedented retirement of the head of the Turkish armed forces, and the heads of the ground, naval, and air forces confirmed a remarkable shift in power from the military to the democratically elected government. Previously, as a consequence of  military intervention in 1980, the core responsibility of judging and ensuring the secular and political course of the nation was  in the hands of the judiciary, military and senior officials of the state rather than elected institutions and citizens. Now, such intervention is no longer regarded as feasible.
Turkey is now the 16th largest economy in the world. Its well-regulated financial markets and banking system weathered the global financial crisis and GDP rebounded strongly to 7.3% in 2010. According to the OECD forecast, Turkey is expected to be the fastest growing economy of the OECD members during 2011-2017. Turkey's per capita income has almost tripled during Erdogan's tenure.
It's not hard to see how Turkey has avoided the economically and politically driven uprisings that have spread throughout the rest of the region. Yet the flashy economic numbers and successful elections may simply be masking alarming signs in other areas.
Spend time talking with people around the country and you will find a number of concerns. An assessment of Anatolian civil society and private sector stakeholders, for instance, paints a contrary picture of a country unsure of its democratic credentials and struggling to accommodate the rising aspirations of its population beyond the metropolises of Istanbul and Ankara. While certainly not an exhaustive list, here I'll touch on a few points:
As the World Bank highlights in its report on Gender Equality and Development, investing in women is one of the most effective ways to reduce inequality and facilitate inclusive economic growth – key elements to ensuring a stable democracy. Yet in Turkey, women are often left on the sidelines of political and economic policymaking due to cultural and structural barriers. Several of these barriers, including the high cost associated with child-care, stem from the fact that traditionally the woman's place has been in the home. At the same time, due to a lack of education and opportunity, many women do not possess the skills to become contributing members of the public or private sectors. In the Anatolian regions of the country in particular, the quality of education for girls decreases after primary school.
Turkey remains one of the most centralized states in the West. Uneven distribution of resources by the central government may be the core cause of Eastern Anatolia's glaring lag in development, but lack of awareness by local business councils and organizations on how to organize and tap into available resources play an equally, if not more important role, in broadening this divide. Because economic activity in Turkey has historically concentrated in a few major cities, namely Istanbul and Ankara, the development and capacity of business associations in greater Anatolia is not at a level which allows them to effectively participate in a democratic policymaking process. The average resident of Diyarbakir or Kars has little say in how government funds are spent in their community.There is a conspicuous shortage of curriculum on issues such as business advocacy, entrepreneurship initiatives and best business practices, which further exacerbates the challenge of attaining the necessary tools to participate in the economic development discourse. Students studying business or public policy in Eastern Anatolia have very few opportunities to practically apply their knowledge. Even the best universities in Turkey are just now beginning to focus on some of these topics.
Turkey's political environment is becoming less competitive. Neither the ruling nor the opposition political parties offer very coherent platforms or policy recommendations and few reach out to voters beyond the campaign period. Turkey's 10 percent electoral threshold, one of the highest in the world, hinders political competition and representation.
Lastly, it would be remiss not to mention what is perhaps the biggest obstacle for further democratization and reform: the Kurdish conflict. A recent piece by UK journalist Firdevs Robinson in Public Service Europe presents a succinct background on the situation. Having myself met with politicians and civil society representatives in the Kurdish region, I can attest to the complexity of the conflict. As Ms. Robinson points out in her article, without fundamental democratic reform, the conflict will not go away.
Turkey has made significant progress towards democratization and economic reform over the past decade under the leadership of the AKP. Those who wish to characterize Turkey as a "model" for other Muslim-majority countries in the Middle East and North Africa region are not necessarily wrong. There are a lot of great things to learn from Turkey as other countries in the region go through major transitions. Yet progress is fragile and does not assure that Turkey will arrive where it needs to be. For Turkey's sake, let's not use strong economic indicators as an excuse to ignore challenges that remain, as has been the tendency with other emerging markets like Brazil and India.
On this Republic Day, we should celebrate with all Turks for their successes they have had over the past year, while being mindful not to forget that there is still work to be done.