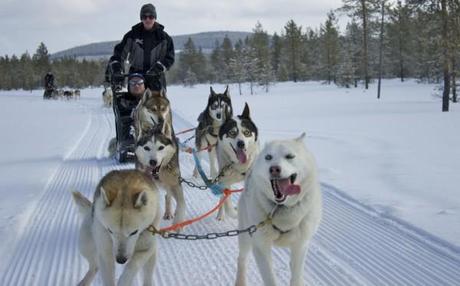 "WOOF, RUF, RUF," was our excited, but noisy greeting from our Iso-Syöte hosts , each of whom seemed to be saying "Pick me, pick me, I'm  fast, I've got lots of energy!"  Once the teams of six huskies were selected for each sled, our hosts conversation remained electric but changed to "Let's go, come on why are we just standing around, we've got work to do" but once we started there was…silence.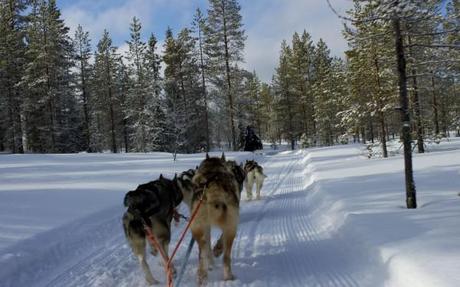 View from the sled - a very peaceful and contemplative ride.
Dog sledding is a surprisingly quiet and peaceful activity.  As we glided through the snow covered trees along a well used path, I felt myself relaxing, and reflecting on life.  Despite the fact I was there with no other goal than to enjoy myself, everything seemed much clearer when dog sledding.   Surprisingly I made a make a big decision that had been weighing on my mind- letting go of online teaching, one of my last links to my previous career life in Canada, in order to focus on travel writing related.  In that moment I knew it was the right thing for me to do.  I had no idea that dog sledding could lead to life changing decisions, but I would like to thank our team of six huskies for their help.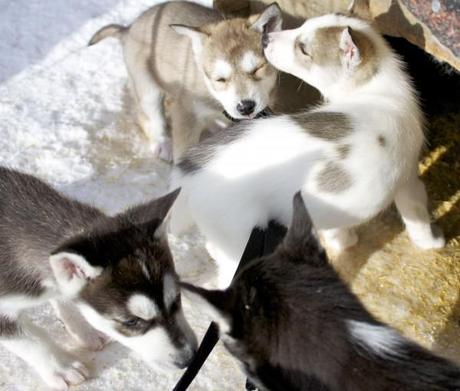 The newest recruits - 7 eight week old puppies, all from the same mother who was surprisingly energetic.
In addition to helping you figure out your own problems, the huskies main job is to pull a sled with two people along a track.   Their enthusiasm for their job is obvious, but they want you to do your share as well.  On the slight uphills, if you weren't pushing, they would look back at you as if to say "slacker" and guilt you into helping push the sled uphill.  12km later, back where we started, they looked grateful for a rest.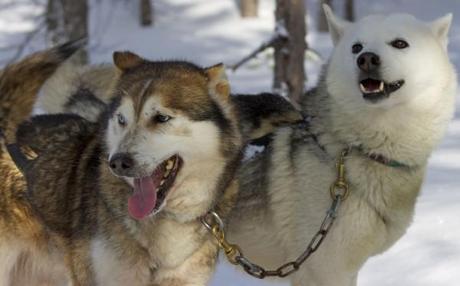 Two very happy "workers" - the one on the right was the Alpha male, but was very calm - a sign of a great leader!
But the canines at Syötteen Eräpalvelut have a pretty sweet job complete with "employment benefits" that would leave most people envious.    Part of the "benefits package" includes  two daily massages by Johanna, one of the owners and a certified massage therapist – who also works with people and is a delight to be around with her contagious enthusiasm and love for her huskies.    There's also a gradual "retirement plan," where older dogs who are still wanting to work are taken out for the shorter trips, or paired with stronger dogs so that they don't have to work as hard, but still feel useful.  Once a dog is too old to work they live out their days in the "retirement home" side by side along with the rest of the community.  I couldn't help but think we should be adapting this design to our own lives.
I left dog sledding feeling both relaxed and energized, the weight of a bid decision now lifted – no downward dog pose yoga moves required.
Logistics:
Getting there:  Iso-Syöte is located 140km NW of Oulu.  Oulu is easily reached by multiple flights from Helsinki daily for reasonable prices.  Tourists can travel between Oulu and  Iso-Syöte by car, but visitors should be aware of winter road conditions.  Alternatively, bus service is also available.
Accommodation:  Hotel Iso-Syöte,  offers guests a choice from:  hotel accommodations,  Finnish style traditional log house cottages or modern cottages with access to a variety of outdoor activities including dog sledding, snowmobiling and skiing, plus much more.

Thank you to Syötteen Eräpalvelut for providing our complimentary dog sledding adventure and to Hotel Iso-Syöte for our meal and accommodation in Iso-Syöte .  As always, all opinions expressed are my own.